Printable Version of Topic
6G Celicas Forums _ Multimedia _ Rock Out with your Stock Out
Posted by: VavAlephVav Oct 22, 2016 - 9:17 PM
https://youtu.be/-vOGXcAEH4k

This is the 5th run of my second autocross. I'm running in the unmodified street class. And getting beat by mini Coopers, a Dodge Dart, and a Fiat.
I know my problem is not going fast enough through that first section but I'm at the top of 1st gear and I'm just getting some practice and not trying to push so hard that I actually break something.
If I were driving anything besides a Toyota I wouldn't even try to take my daily driver out here.

In Kansas City we are truly blessed to have this awesome track to run. It is actually the local community college course that they use to train law enforcement and it's super sweet.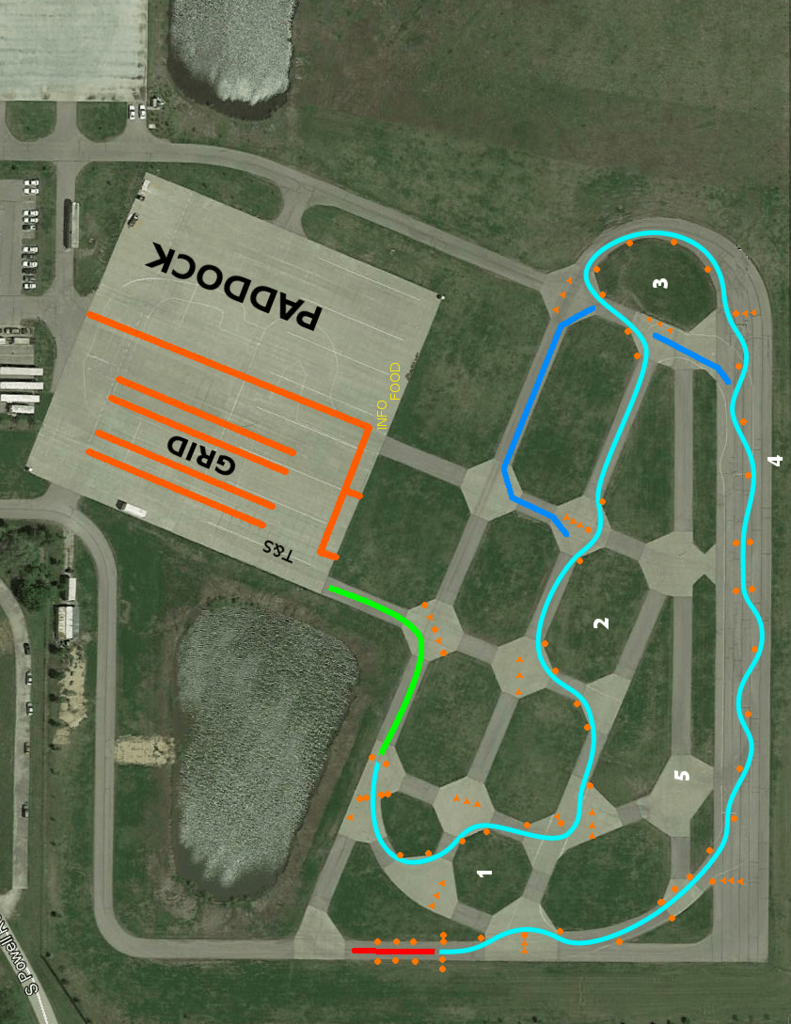 This is the track, but the highlight is not the way it was coned off this time. They make a different track every meet.
We have 10 events a year here any body within driving distance of KC should come and check us out.
I'm the only Celica out here.

...And you know what my paint looks like : /
By this time next year I'll be opening my build thread

Posted by: Box Oct 22, 2016 - 10:34 PM
I need to find local sanctioned autocross events near me and start hustling the Firebird around before I start modifying it to get some good baselines. Looks like a lot of fun.

Posted by: VavAlephVav Oct 23, 2016 - 1:28 AM
SCCA.org
and find your local chapter.

Posted by: BonzaiCelica Oct 23, 2016 - 7:41 PM
Dart is like 600 lbs heavier, how!

Posted by: VavAlephVav Oct 31, 2016 - 2:46 PM
The dart has 20 more hp though.
When you look at hp/weight the cars you see in our class the Scion TC is 0.055 and the Celica and Dart are 0.050.
The everything else is lower; Civic and Fiesta 0.047, Mini Cooper 0.045.
But I am the only one that's got suspension bushings that are 22 years old and 200k miles on the rings. I think that's a big part of my problem.


Here's the best run from event 13. I'm still about 5 seconds behind the leader of H Street class which is a Fiesta actually. But that car had no wheel gap and looked lowered to me, like he had some nice coil-overs. Unless the Fiesta comes that way stock I'll have to go through the rules and see what you can get away with and still be in the stock class.

This wasn't bad but I'm still spinning my tires a bit through 2nd gear after the hairpin and I am geared so low that I can get into 3rd on the straights. I think a taller gear would be better here.
The slalom was an option this time and I entered from the left each time because that is what the guy who did the novice walk-through suggested to make it easier once you got the gates at the end. But now I wish I would have tried it the other direction once.




https://youtu.be/SVKa9wIBEQk

Posted by: Box Oct 31, 2016 - 3:45 PM
Maybe it's the Fiesta ST? Seems like minimal gap stock for them at least:


That or a regular Fiesta with ST factory suspension since I wouldn't think a ST would be in the same class.

Posted by: VavAlephVav Oct 31, 2016 - 3:49 PM
That's right!
I was just looking at it and the ST has 197 freakin horse power and that's hp/lb ratio of 0.072 which is way better than anybody else in the class.
I'm going to have to ask about how the classes are decided.

Posted by: Box Oct 31, 2016 - 4:14 PM
Indeed because if it's a ST that's just grossly unfair to everyone else. From what I just found 197 horsepower aside it has a fancy brake based torque vectoring system as well, because the factory suspension and brakes weren't a big enough advantage as it was. Honestly there's no way in Hell to compete with that stock vs stock unless the guy in the ST just sucks it up terribly.

Posted by: VavAlephVav Oct 31, 2016 - 8:18 PM
I checked the entry list and the rule book. They are indeed Fiesta ST and that is the class they are supposed to be in.
I'll have to show up at the meetings and ask who actually decides these things.

Although I feel better because I'm only 3 seconds behind the cars with similar hp/lb ratios.

Posted by: Box Oct 31, 2016 - 8:53 PM
They should let you bring the Celica up to factory SS-III or GT-Four spec to level the playing field, just saying.

Posted by: VavAlephVav Mar 20, 2017 - 2:28 PM
The first event of the year was what they call a Test and Tune. They limited the event to 65 cars and just let us run again and again. I got 28 runs

, but now the little triangles that mark the tread patch on my tires are completely gone. The best runs of the day were right at the end.

https://youtu.be/J0M3mjjlMa8



Posted by: Box Mar 20, 2017 - 3:22 PM
Out of curiosity what tires are you using? Sounds like they don't have much grip.

Posted by: VavAlephVav Mar 20, 2017 - 8:34 PM
Those are stock size Khumo Ectas, they were pretty grippy when I first got them, but now they are 2 years old.
And by the end of the day I was getting pretty good at pushing them all the way to the edge, and a little over.
I think once I actually get some light rims and summer tires I'm going to be pretty dangerous.



Posted by: Box Mar 20, 2017 - 9:38 PM
Some good summer tires on lightweight 16's and you're certain to cut some time off your runs.

Posted by: VavAlephVav Mar 21, 2017 - 1:35 PM
My problem is that when i started looking for another car to use as DD while i work on the Celica, I found a Corolla that is more worthy of building. So now im not gonna spend money on the Celica right away.


Posted by: Box Mar 21, 2017 - 1:47 PM
Oh yeah the AE92, almost forgot about that one. How is that coming along anyway?

Posted by: VavAlephVav Mar 22, 2017 - 10:21 AM
I put off starting until graduation in May, then its on.


Im planning to start rebuilding the motor with turbo worthy compnents.
They have a nice kit on smr2u.com


Posted by: VavAlephVav Jul 22, 2017 - 8:48 PM
I got myself some Dunlop Direzzas and I get to go back to the track to try them out next weekend

Posted by: BonzaiCelica Jul 23, 2017 - 2:08 AM
cool. i believe i'll look into auto cross before i head to a track myself. it'll be my first ordeal after i finish my build.

Posted by: VavAlephVav Jul 25, 2017 - 10:32 PM
The nice thing is that you can run whatever tires you want and still qualify as Stock. As long as they fit in the wheel well.
But once you get yourself into the modified class you are racing against peoples who got lotza money to spend on deer toys.
I guarantee you will love it.


So, funny story...

I was riding down the highway back from our job with the Muskogee with a fellow I work with in his early 2000's Chevy Silverado. His vortec engine is made of real Tornadoes, and his odometer read infinity miles. And I was telling him that when I got back I was picking up some tires I had ordered
and having them installed, ...at Walmart.
He gave me this funny look.
I said "Oh come on, it's just 5 lug nuts. How can they **** that up?"
The deal is that, by the time you pay shipping, Tirerack's price was the same as Walmart's. And the summer Direzza in the stock size costs the same as the Kuhmo all-seasons do. Except when I asked for a quote from another local "Discount" tire place they wanted fifty bucks more for each tire. So I went to Walmart.

https://drive.google.com/open?id=0B0lcrrVD55UcSnV5MXNyTVh3bXM




Powered by Invision Power Board (http://www.invisionboard.com)
© Invision Power Services (http://www.invisionpower.com)