I just wanted to keep track of my mods and all that, thought maybe some people would be inerested in following along. It was a bone stock red 1995 Celica hatchback GTS and this is the most recent pics I have of her. Tint was probably the first thing I added, 15% all around. I love it, just dark enough during the day, and I can still see at night.
First Thing I did was added a sound system.
- 3 10" MTX subwoofers
-1000w Clarion Amp
-Pioneer AVH-P4000DVD Double Din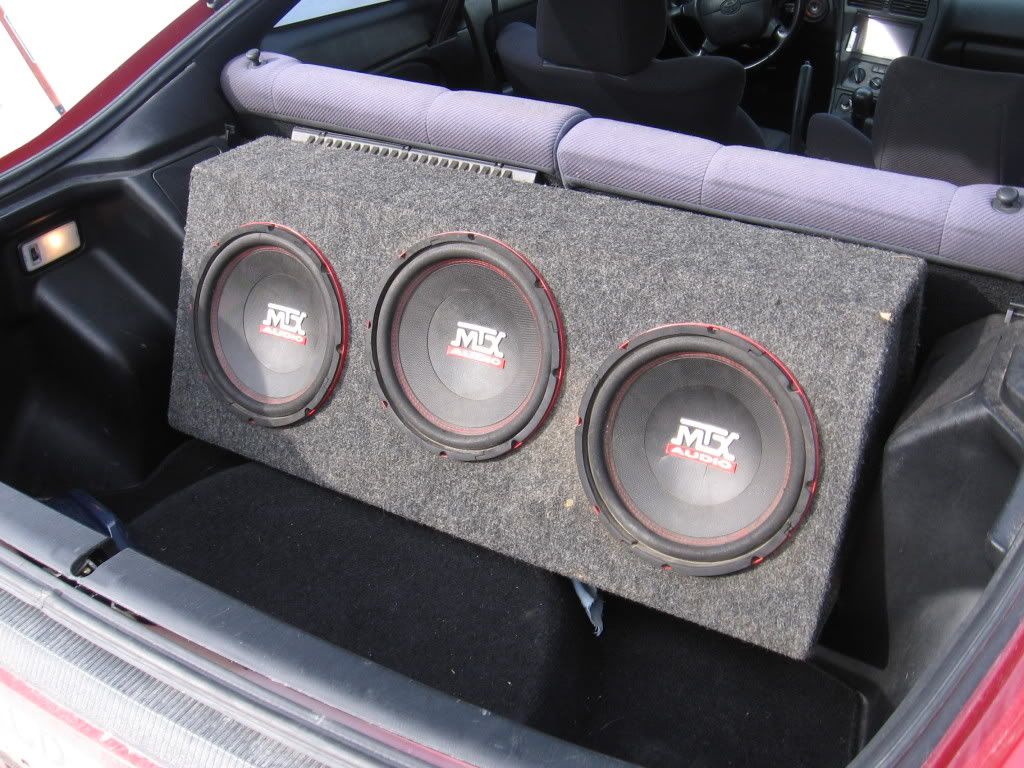 Next I added a canister style muffler. Not sure the brand, but it was cheap, and sounds pretty good. It may get changed eventually, but for now it will do.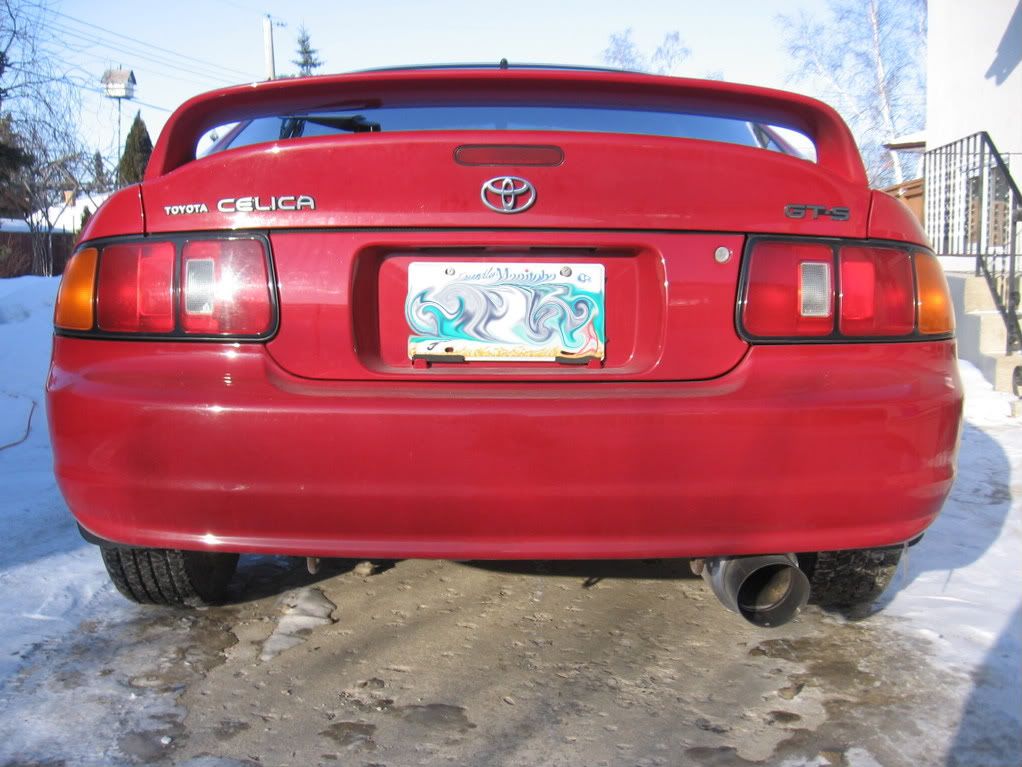 I Really liked the look of HID Headlights, so I picked up some 8000k HID's from Futurvision, I local company in my city and I haven' had any problems.
Added a Short ram Intake that I ordered off ebay, and I love the sound of it. I've had so many people ask me if my car is boosted because it sucks so loud. Even A mechanic I took it to asked if it was. Maybe I should start looking for a new one... haha.
I wanted to focus on the interior next. Now it may not be everyones thing, but I wired up some LEDs uner neith the dash and inside the air vents. My dad and I made a custom Mount for the switches out of plexiglass. I removed the pocket, as I really had no use for it and Mounted he switches there. I foudn some of this wierd sheet of a giant sticker that was black called "Mack Tack" and it just happened to match the exact texture of the stereo trim so I used that To cover it.
Now some pics:
You can't see it that good, but I think it looks really awesome. Shortly after his i changed the dash lights to red too, but I don't have a picture.
My Celica had the dreaded water in the highbeam, I tried drilling it out before I really did any research, Didn't work out tooo great but it got the job done temporarily. Luckily I got a wicked deal on some headlights locally of Kloudkicka. This picture means a lot to me cause its probably the first real work I've ever done on a car, and I did it all by myself.
I stared looking at 6GC all the time and that's when I really caught the modding Bug. Unfortunately I couldn't really afford the direction I wanted the car to go, So I had to go the cheap route. I had I good idea of what rims I wanted, but couldn't afford it, so I went ahead and painted the stock rims for the time being just for a little change. ALso added an aluminum grill to get rid of the big open space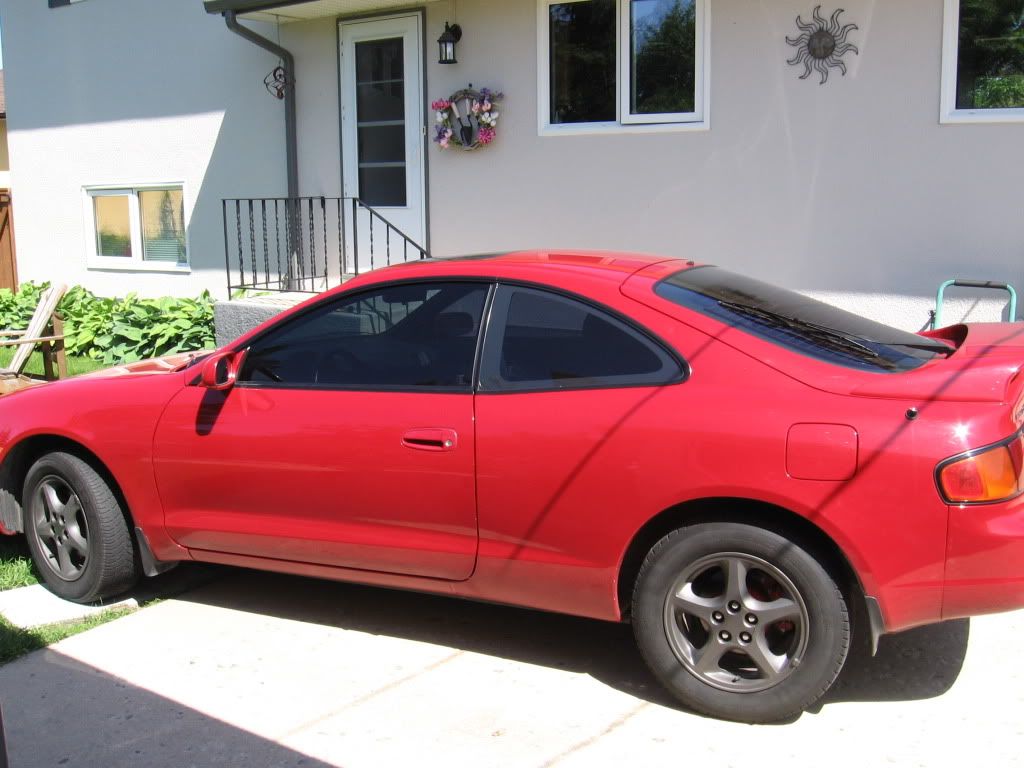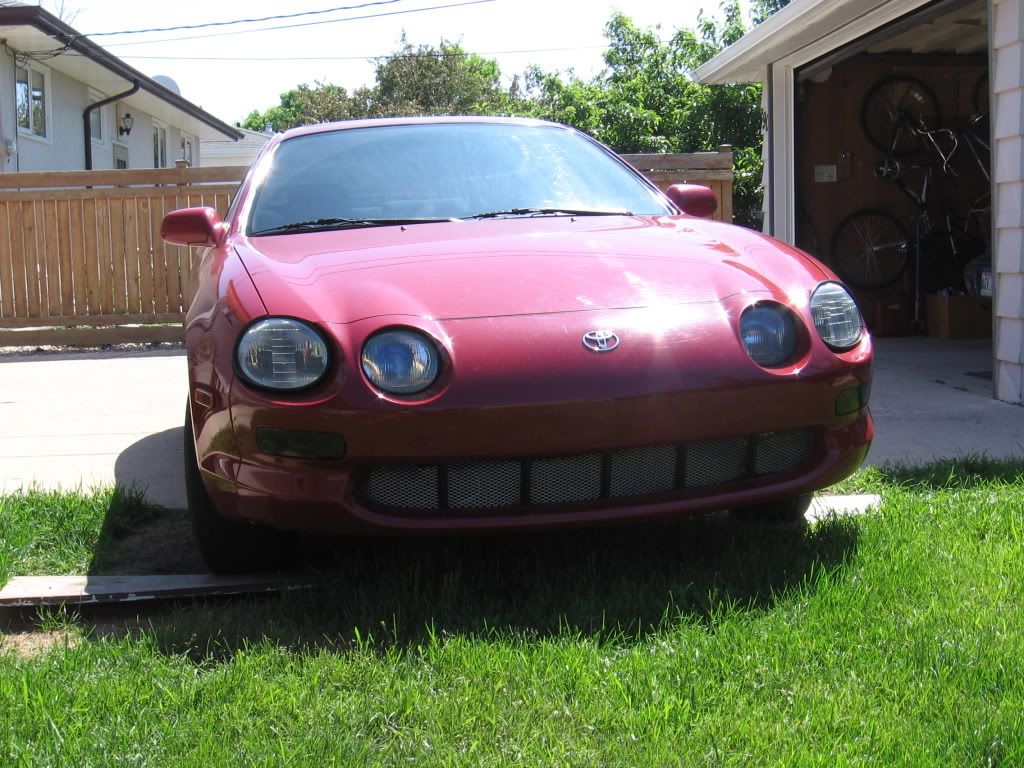 Ordered some Riser Blocks from vincent, and painted them to match the wheels, because I knew matching the red body would be fairly difficult to do, so this is how it will sit for now.
After plenty of saving up and a TON, and i mean a TON of research, I bought some Tien S-Tech's and I couldn't wait for them to arrive. The roads in my city are complete crap, so spring choice was a big choice, because I knew I wanted to get 18's and possibly add skirts and some TRD front and rear splitters.
I did the reading and decided s techs would be the best because It gave a drop, but didn't slam the car, and would reduce the wheel gap, but would still be a good daily driver and was also affordable.
Here's a before and after picture.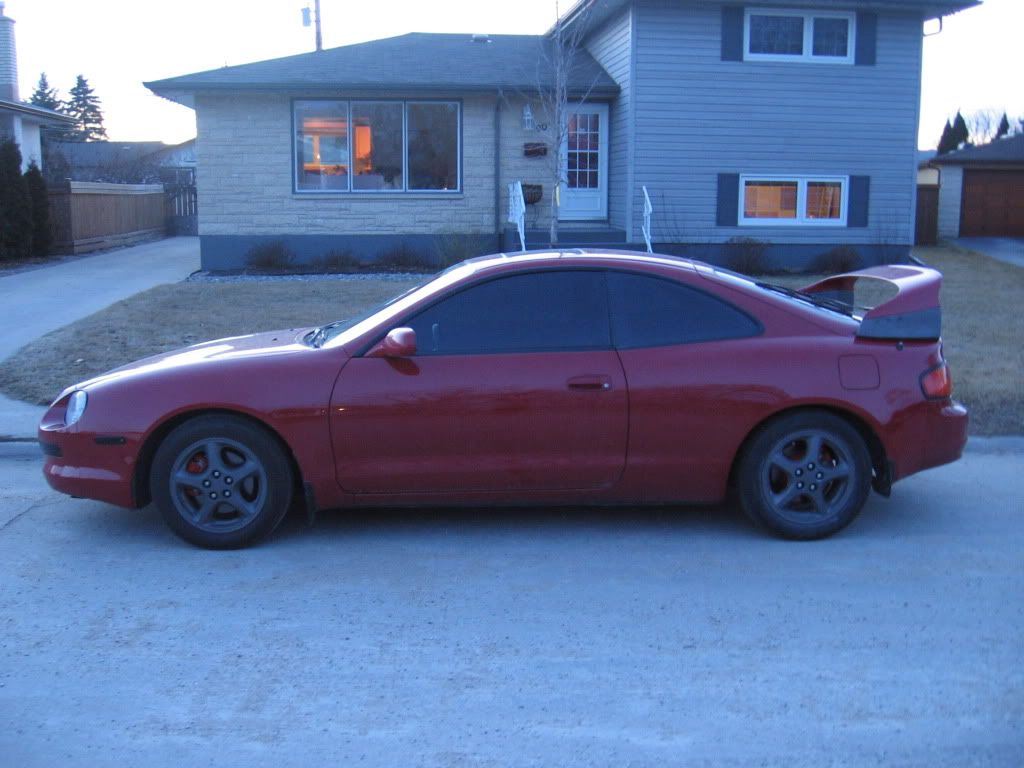 This took me about 7 hours, by myself. I really didn't know exactly what I was doing so I took my time. I managed to get almost all of the nuts and bolts off wih ease. Except on the last strut. The nut was stripped and the bolt had to be cut off. The endlink nut was also stripped so I replaced those, and my celica sat for a few days while the parts came in to the stealership haha. Finally got it on the road and couldn't be happier.
My car doesn't bottom out, and the ride was very close to stock.
Thats basically how the car sits right now, and Im really happy with it, except the modding bug has not left, but money kinda holds me back.
Little photoshoot I did with my moms point and shoot, they turned out not bad.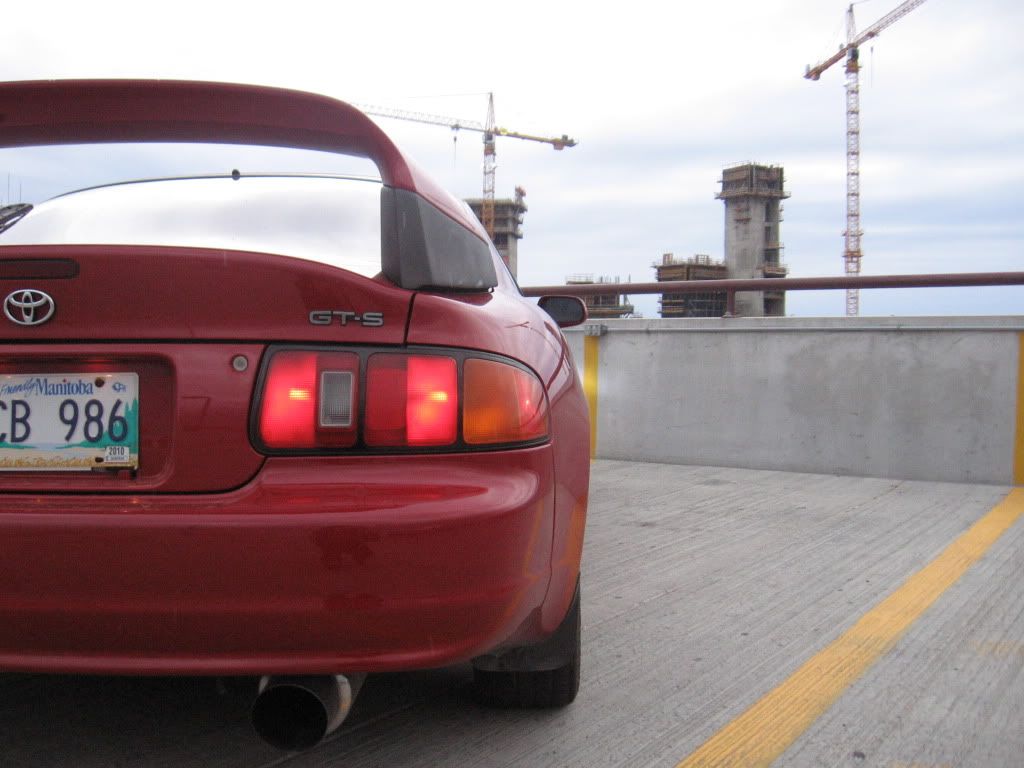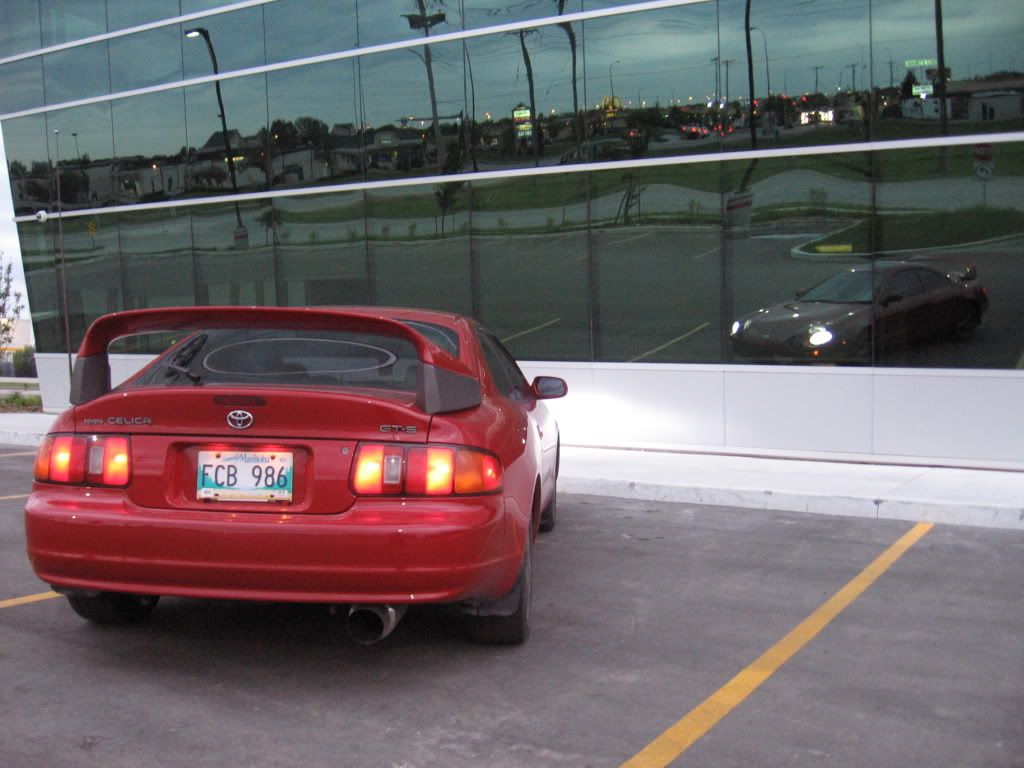 That's It for now, Any ideas, suggestions, comments, or whatever are welcome. I plan to update this thread as I go along. But you can expect an update REEAALLL Soon.
Thanks for looking, Colin.