Okay here's the story:
When we moved here to texas, we only had a 2007 Nissan Altima, my brother needed a car so we found this 1994 Mitsubishi 3000GT. we took a look at it and found some problems so we moved on to the 1995 Toyota Celica Vert. It was missing the back glass but nothing major. so we paid $2300 dollars and it was ours.
Few weeks later my brother got into a fender-bender and gave the car to this mechanic/bodyshop. his estimate to replace just the Hood and bumper with MY PARTS, was $800 dollars! we obviously said no! Hurricane Ike hit houston and later we picked up the car. (During this 3 months time my brother got himself a 2004 Mazda RX-8. so the celica was mine, all i needed to do was fix it)
At this time i knew absolutely NOTHING about cars. The celica wasnt starting no cranking sound no nothing. so i played around with it and unplugged and plugged random stuff. eventually it started! once it started i put the car on craigslist and planned to sell it. i found a guy who was paying me 1200 dollars so i sold it. the day later he brought the car and told me the car was missing an alternator (that old mechanic stole my alternator!! :@) So i drove it and offered him an extra 300 dollars if he lets me keep the car. And he did!
how i got the car:
i loved this car! it was perfect (sort of)
The only problem was that it use to idle REALLY REALLY BAD!! every time the car use to stop it used to shake like hell and it only use to stop when i used to put it in P(park) and rev it up to around 2000-2500 rpm. But i ignored that issue.
my 1st "mod" was some walmart speakers...and a sony xplod sub with clarion 400W amp i got at a pawn shop!
then i found Alex on the 6gc chat room and bought a front bumper and hood from him and went for some bodywork (thanks dude!)The guy at the bodyshop took a look at the shaking and suggested me to replace my plugs, wires and distributer...when i did he did a compression test and told me i have low compression on cylinder number 2 and told me i had to replaced the piston or rings...but i didnt have the money so i passed his offer! i got the front done from him and look a chance and fixed all the dents on the body and prepped it for primer.
front job:
my denting work: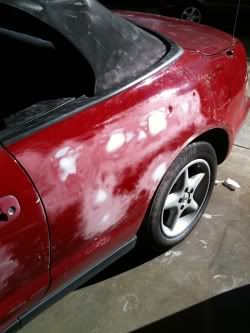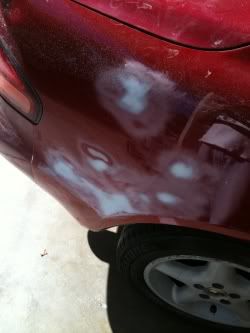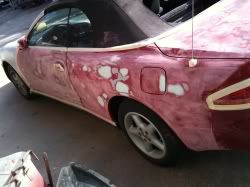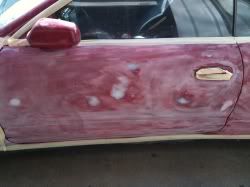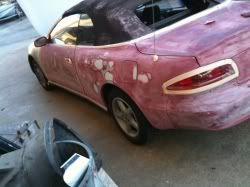 results: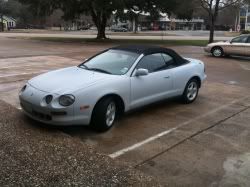 later i bought and intake and a sports module chip off from ebay it claimed to give me 300 horsepower and i went for it! (like i said, i really didnt know anything.)
then i completed my bodywork and learned some new stuff.
A year passes..i now have a 95 vert with come headers, intake, awesome HIDs, new dvd head unit, new kickers, custom leather seat cover (with my name on the headrest

) and a nice primer job on the car!
HIDS:
screen:
Engine bay: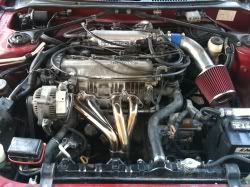 Seat covers:
During this time i wanted to finally fix the shaking problem!
so i found this guy who works at the KWIK KAR near my job so i asked him to come over at my place and help me rebuild my engine.
we ordered a new head, and started to take everything apart:
after 5-8 days the engine was out...
a week later it was apart.
i sent the block to the machine shop to get it inspected, they said its fine. Later i sent the crank for the inspection. Crank needed to be grinded so i got it done.
now i had what bearing sized i needed and ordered the kit.
once i got everything i needed i called the mechanic and he started to put everything together when he noticed, that the cylinder walls didnt look right and needed to be honed. we went to autozone and got a honing tool and started working. it got better but not perfect. so i took it to the machine shop again and told him whatsup!
His reply was "yea i saw that but it shouldnt give you anyproblems" but i knew it would so i told him to fix it. a day later i picked it up and started the assemblling... again!
enough with the long story here are the pics

(not in order sorry)
Head/Valves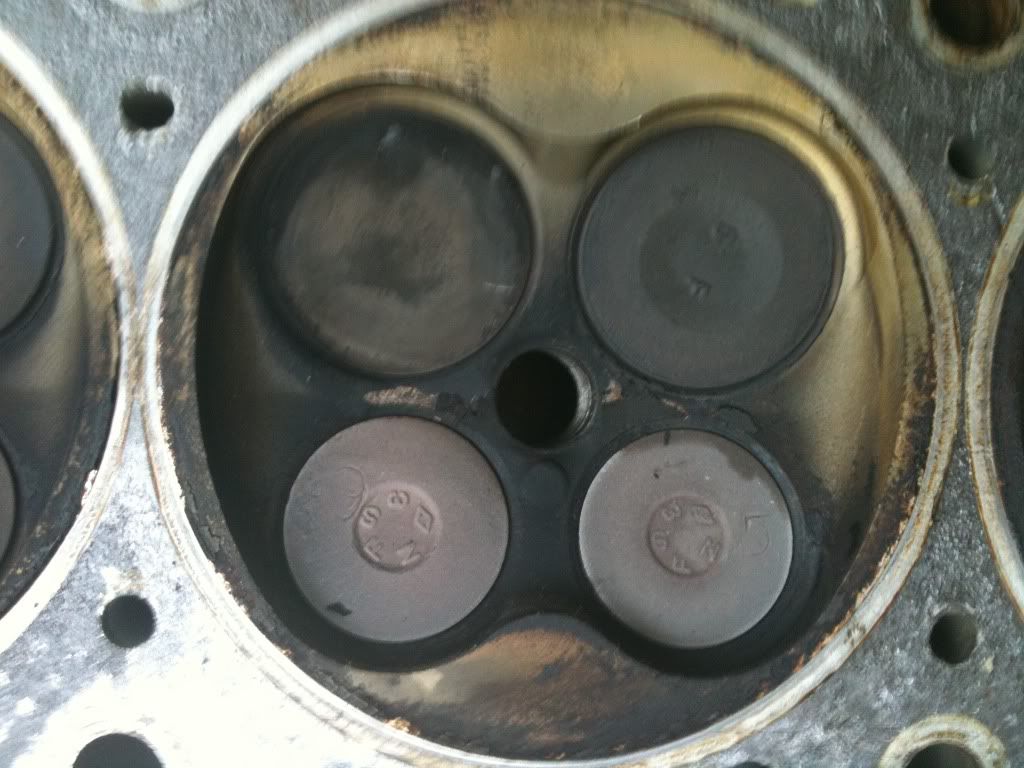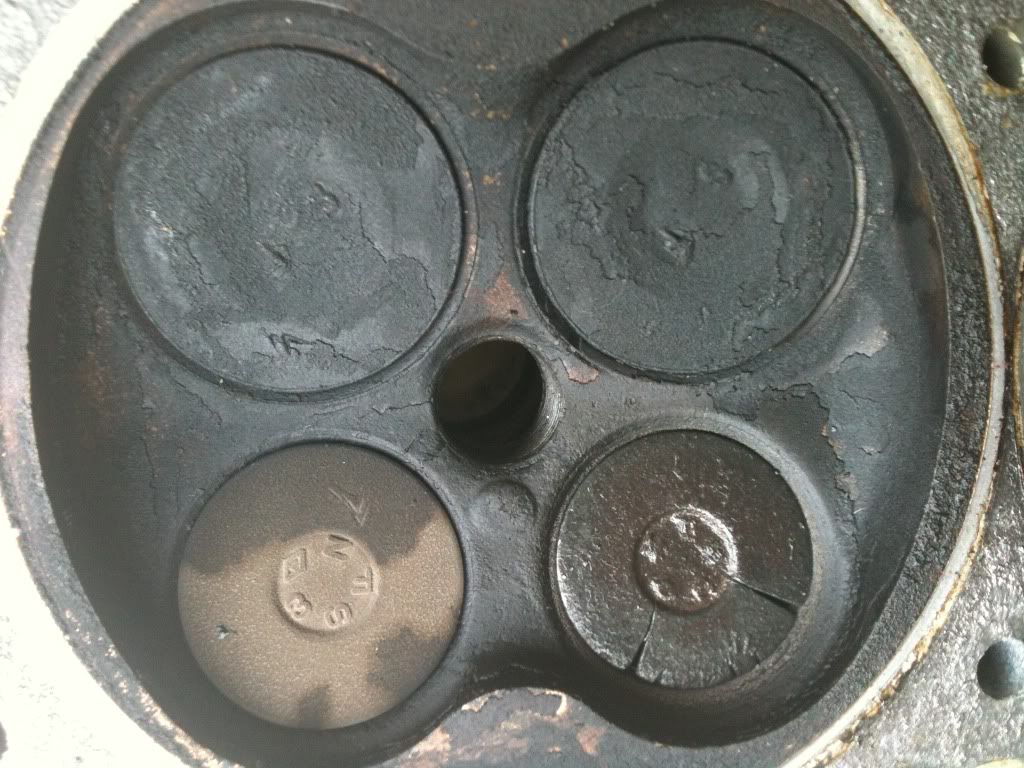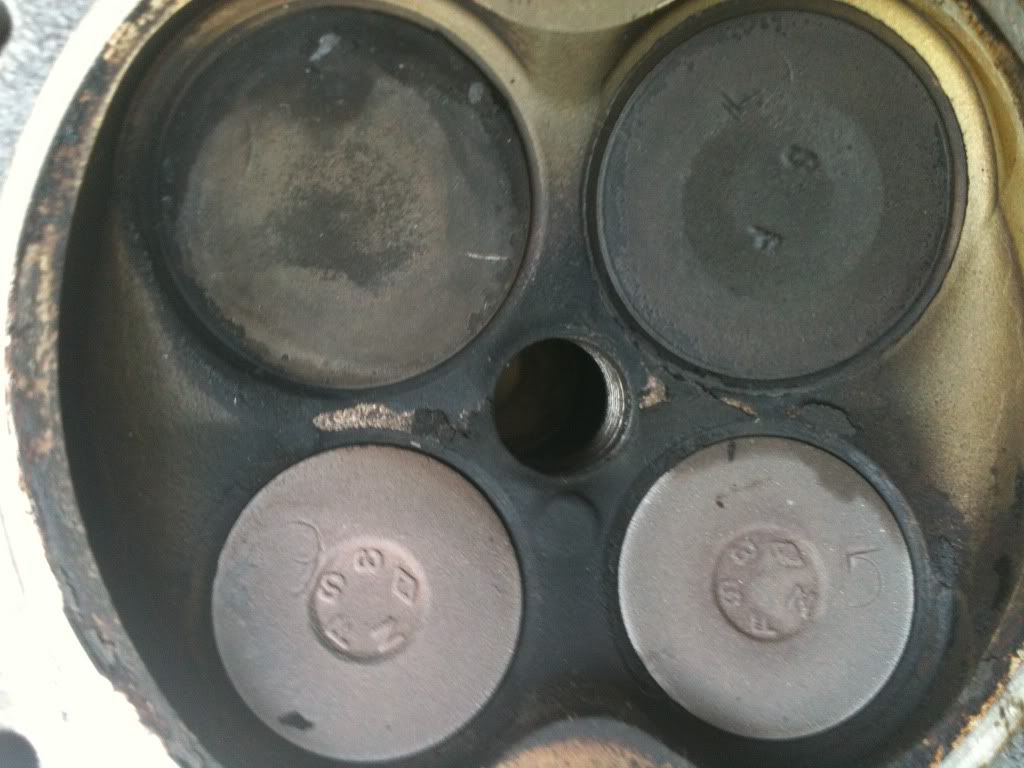 PISTONS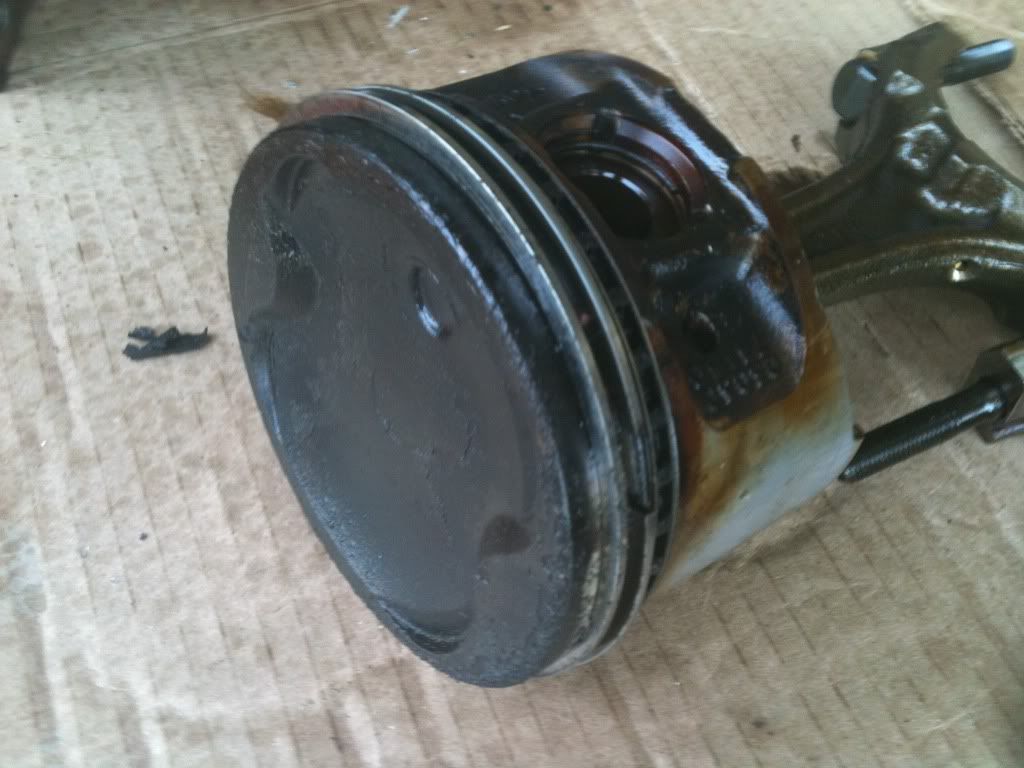 NEW pistons vs OLD pistons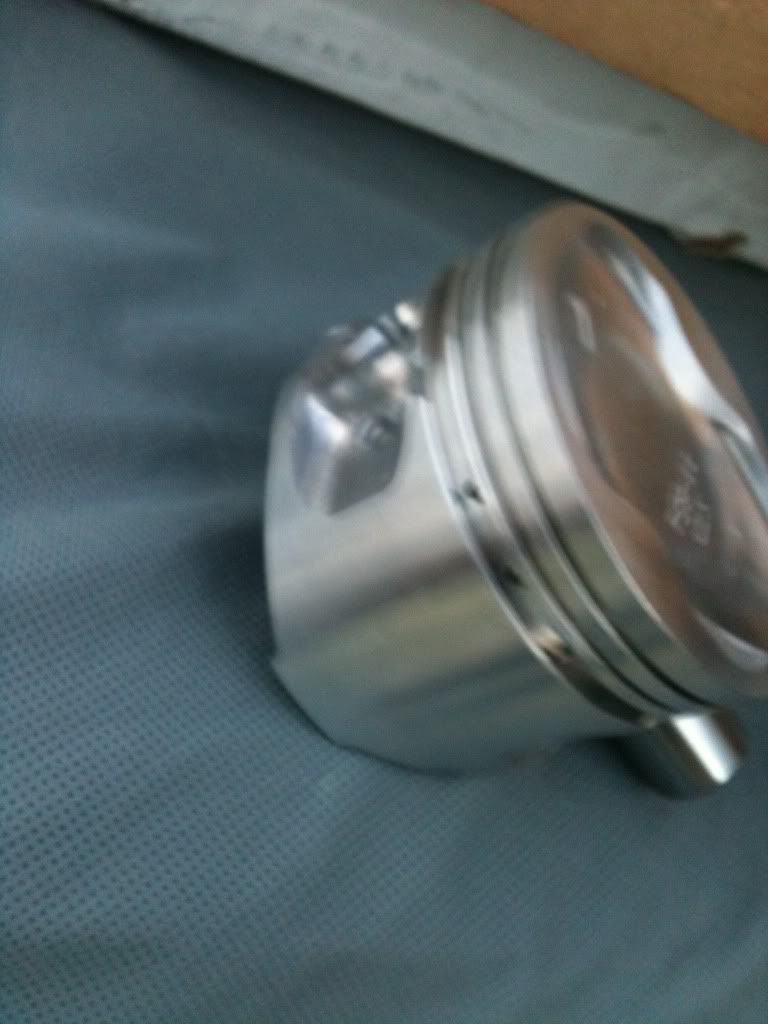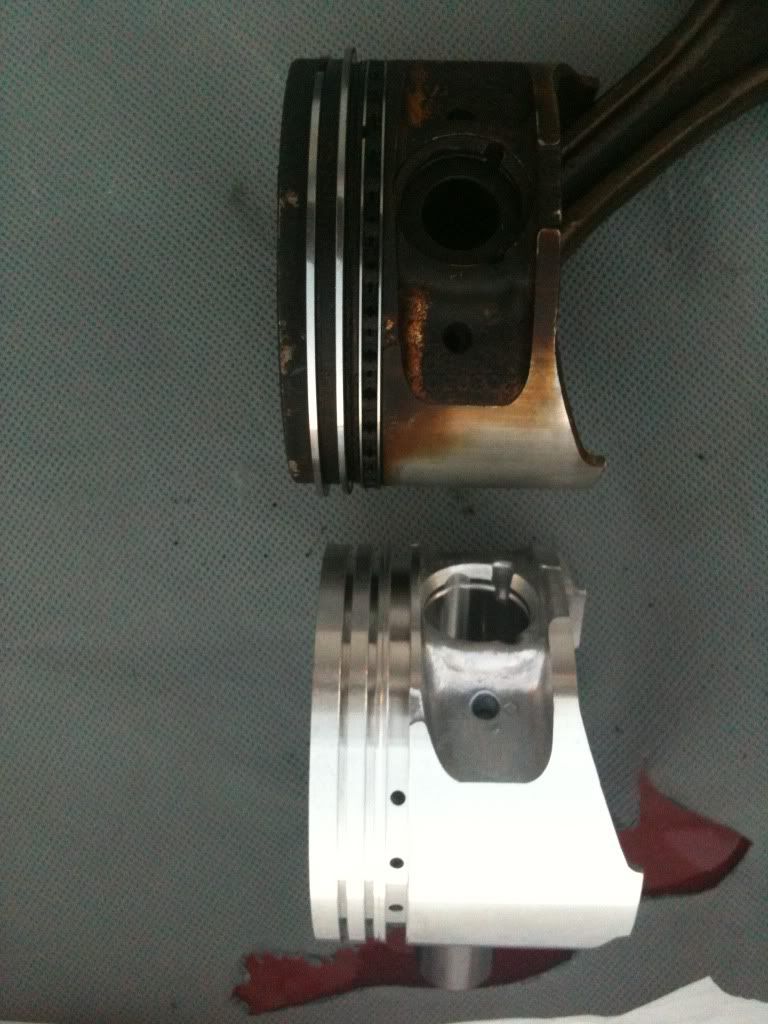 OIL PUMP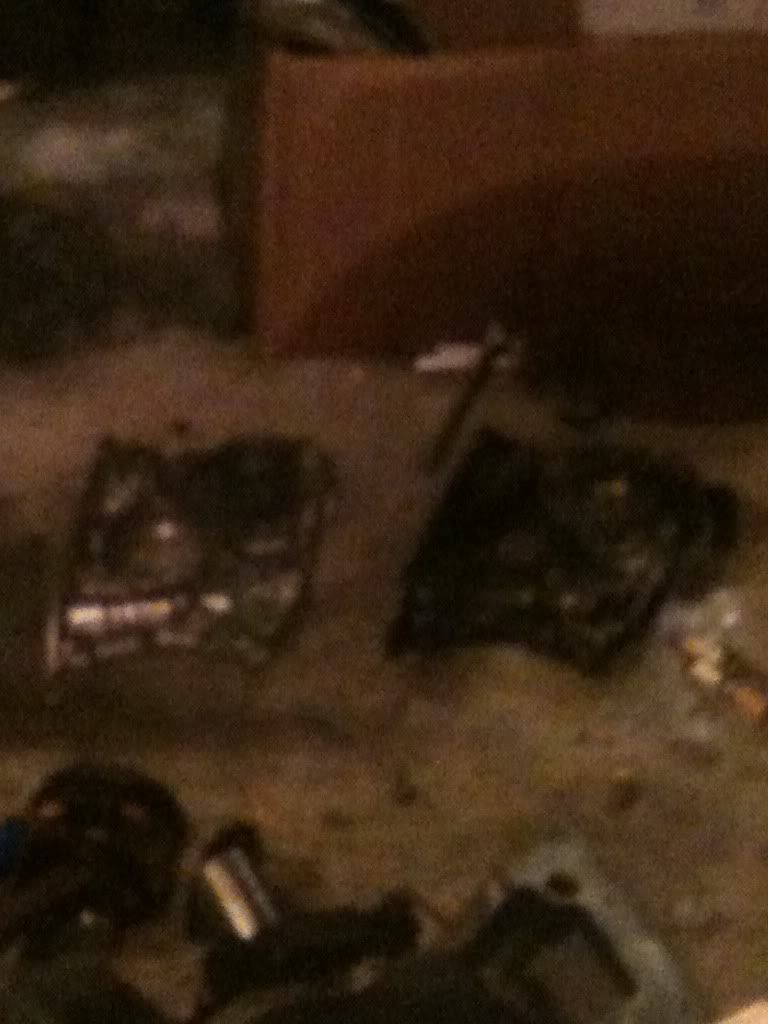 BAD MOUNT!!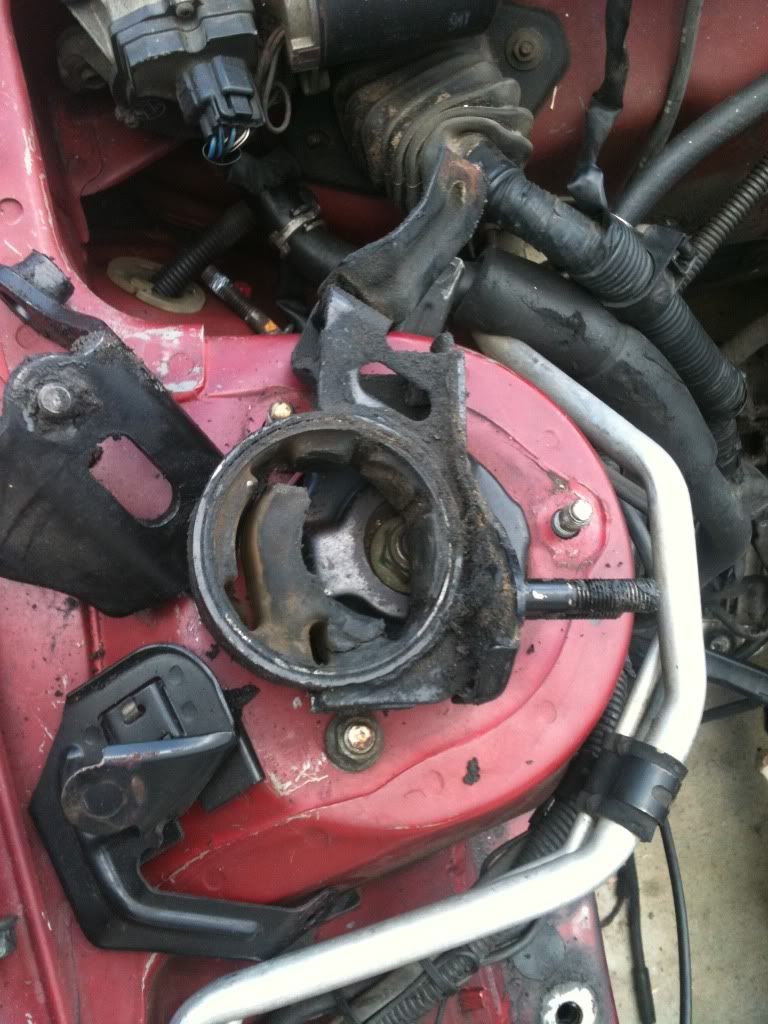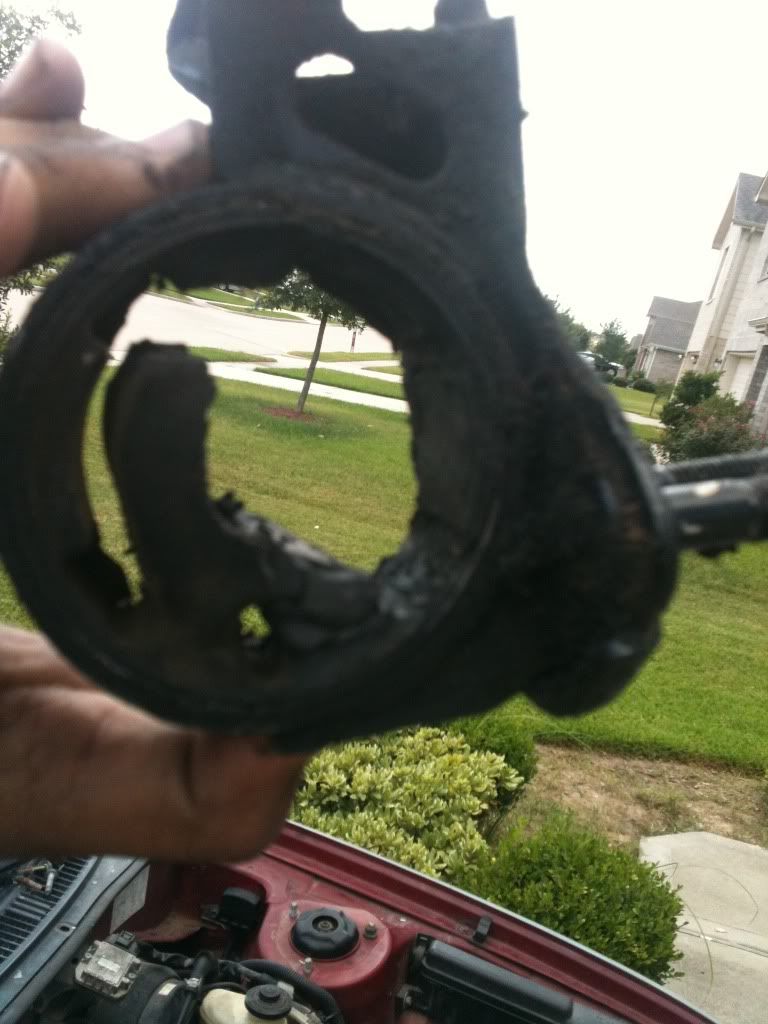 So now it was all assemblemed and ready to go in the car.
(Got new mounts and new CV axles...and found out that my car has ABS!! i didnt know that as every time i slammed on the brakes, the wheels locked...after the CV i realized that i had my ABS fuses out!)
Results/Problems:
1. Now the engines in, but the car will not start. NO cranking, no "reh-eh" sound, no nothing!
few days later found out that the mechanic didnt ground the starter. Fixed that problem.
2. Engine starts but now Engine oil is leaking from behind the timing belt cover!
Mechanic #2 comes and takes a look. Mech. #1 forgot to put the O-ring on the Cam-gear, therefore if was leaking.fixed that problem and left.
3. Now it looks all fine and good. I drive it to the gas station and see that Transmition Oil is POURING from the bottom. I Wanted to drive it back home but the car wont move. I put the car in "D" (drive), step on the accelerator, it revs up, but doesnt want to move. As-If theres not power going to the wheels. Few Seconds later, i smell this bad fish-burning smell so i stop! I went to walmart and got some new fluids, 8 bottles, and then manage to drive the car back home, (barely)
Jonathan (D-man) saves the day by coming and taking a look at the car, He realized that there is A LOT wrong with the car. The main problem, transmition oil leak, was caused by my tranny pan MISSING! He said that he'll get me one soon and fix it

About 2-3 weeks later, mech.# 1 came and took a look at it, he "forgot" to put on some bolts around the tranny and according to him that was the problem. he got new bolts and stoped that problem.
4. As of today (Sept. 3rd 2010) i drove the car about 100-120 miles had no problems...obviously since im missing my EGR valve, it idles a little but nothing serious.
BUT like the last 20 miles, i noticed that its making a weird noise, asif the car's missing, but it not really missing,
hard to explaing in txt.
so now im gonna go back tomorrow on monday and show him all these problems. hopefully its nuthing serious:)
hope this thread helped some of you guys!
As of Sept 13th 2010:
The car has a new Distributer, and waiting on the EGR valve. He (mech#1) says that i need a new knock sensor but i need ur oppinion on that!