Sorry, but no we can NOT ship large fragile items like hoods, bumpers, or fenders.
We CAN ship the absorbers, grills, turn signals, vents, projector headlights, etc....

Just a quick note, if you guys need anything looked up, send an email to me at partznet@conicelliautoplex.com or give myself or Sam a call at 1-800-825-7128 ext. 5 because as of January 14th, 2011 Art (lagos) will not be able to look up part numbers and prices due to going to school full time. It seems to be easier to keep track of all of the requests through emails. Also keep in mind most of the time we can only look these up Monday-Friday 8am to 5pm EST.
If you are just trying to get a ball park price on a part, please visit our website directly. The 6gc discount is lower than the web site pricing, but it will give you a general idea of the price of the part you are looking for. Our site is located at:
www.partznet.com

Hey guys!
Since Art joined us here at Partznet, we set up some great discounts for 6GC.net members! Even though Art will not be able to work with us for a while due to going to school full time, myself and Sam will still be honoring the discounts that we already have in place for you guys! Just remember, we can do free shipping on most orders over $100 (if the order is also under 20lbs. and not an oversize item.), and we only ship to domestic address, including Canada and Puerto Rico.

To start off, here is a list of GT-Four parts, as well as our current prices. Keep in mind that these prices are subject to change at any time, and don't include tax and possible shipping charges depending on the part or your location.
I'll also update this list with common 3sgte related parts.



Projector Headlights:
81014-20100 (Left) $293.23
81012-20100 (Right) $290.82
Clear High Beams:
81130-20050 (RIGHT) $113.85
81170-20050 (LEFT) $113.85



JDM Tail-Lights:
81561-2B240 (Left) $113.36

*Only 1 left in the Toyota warehouse!


81551-2B300 (Right)

*No longer available.





GT-Four Hood and Bumper:
•Cover, front bumper 52119-2B905 $243.22
•Absorber, front bumper energy 52611-20150 $65.96
•Seal, hood to front end panel 53395-20020

**No longer available**


•retainer, front bumper upper center 52521-20200

**No longer available**


•Grill, sub-assy, rad., center 53101-20500 $57.07
•Grill, radiator, lower 53111-20750 $155.23
•Bezel, grille, lower RH 53112-20240

**No longer available**


•Bezel, grille lower LH 53113-20180

**No longer available**


Hood
•Hood sub-assy. 53301-20500 $775.08
•Plate assembly, hood bulge aka middle hood vent 76190-20010 $44.94



GT-Four Turn Signals
•Front turn signal, RH 81510-20750 $32.42
•Front turn signal, LH 81520-20750 $32.42



Hood Vents
•Hood bulge 76180-20010-C0 202 $29.66
•Right hand rear vent 75033-20030-C0 202 $113.55
•Left hand rear vent 75034-20030-C0 $113.55


*Sample photo, Only available in black!





Fog Lights and other Optional Parts
•Bracket, upper grill #1 53115-20070 $14.65
•Bracket, upper grill #2 53118-20070 $16.25
•Reinforcement "Crash" Bar 52131-20220 $213.15(note, you need the frame brackets along with the crash bar and they appear to be discontinued)



GT-Four Spoiler Posts
76087-20916 (Left)

**No longer available**


76088-20914 (Right)

**No longer available**





GT-Four Factory Rear Strut Brace
53605-20020 $82.35


*Brace only! Does not include strut trim covers.






-----Swapped Celica 3sgte (2nd Gen) Tune up Parts-----------
Cam Seals: 90311-35022 Price: $3.50 (each)
Timing Belt:13568-79045 Price: $28.63
Timing belt Tensioner: 13540-88382 Price: $44.59
Timing belt Idler Pulley1: 13505-88383 Price: $92.53
Timing belt Idler Pulley2: 13503-63011 Price: $43.60
Turbo to manifold gasket: 17278-88381 Price: $25.89
Distributor cap (2nd gen):19101-88363 Price: $40.55
Rotor (2nd gen) :19102-74040 Price: $6.31
Plug wires (89-90) :9091921473 Price: $72.57
Plug wires (91-93) :9091921524 Price: $78.30
Spark plugs : 90919-01180 Price: $5.62 (each)
Water Pump (2nd gen) : 16100-79127 Price: $103.04



--------Celica GT Motor Mounts for 3sgte swap with S54 Transmission-------
Front Motor Mount: 12360-74050 Price: $70.57
Drivers Side Mount: 12372-74451 Price: $75.89
**Rear Motor Mount: 12371-74411 Price: $50.11
*Passengers Side Motor Mount:
12362-74430 Price: $113.72
12381-74020 Price: $9.25
12316-74070 Price: $32.55
90105-10384 Price: $0.99


* The passengers side motor mount is sold in pieces. All parts listed must be ordered.




** If using the Solara/MR2 (E153) transmission for your swap, you must purchase a rear st205 motor mount USED from the forums.




*** Generic Sample Photo. Actual Item is different.





-----Celica GT (5S-FE) Tune up Parts-----------
Timing Belt :13568-09041 Price:$27.39
Timing belt Idler Pulley1: 13505-74011 Price: $75.26
Timing belt Idler Pulley2: 13503-63011 Price: $43.60
Tensioner Spring: 90507-17003 Price: $2.30
Spark Plug Wires: Price: $63.55
Spark plugs (each): 9091901178 Price: $6.16 (Quantity needed: 4)
Distributor Cap: 19101-74110 Price: $12.63
Distributor Rotor: 19102-74040 Price: $6.31
Distributor O-Ring: 90099-14127 Price: $2.61
Celica GT (5SFE) Clutch
31250-20252 DISC ASSY, CLU

**No longer available**


31210-32130-84 CLUTCH COVER, $67.80 + $7.00 Core charge
31230-32060 BEARING ASSY, $41.60



-----Celica ST (7A-FE) Tune up Parts-----------
Timing Belt: 13568-19056 Price: $21.11
Timing Belt Idler Pulley: 13505-15050 Price: $74.16
Tensioner Spring:90506-16065 Price: $1.46
Spark Plug Wires:90919-22327 Price: $54.82
Spark plugs (each): 9091901176 Price: $1.46
Distributor Cap: 19101-11060 Price: $32.46
Distributor Rotor: 19102-16010 Price: $3.66
Distributor O-Ring: 90099-14091 Price: $2.45





94-99 TRD Lowering Springs
Part Number:PTR04-20940-08
Price: $199.00 (

Still available to order!

)



94-99 Celica OEM Floor mats
Part Number: 00200-20940-13
Price: $52.25 (

*** No longer available ***

)



Toyota FIGP Oil Pan Gasket Sealant
Part Number: 00295-00103
Price: $9.04 (

In Stock!

)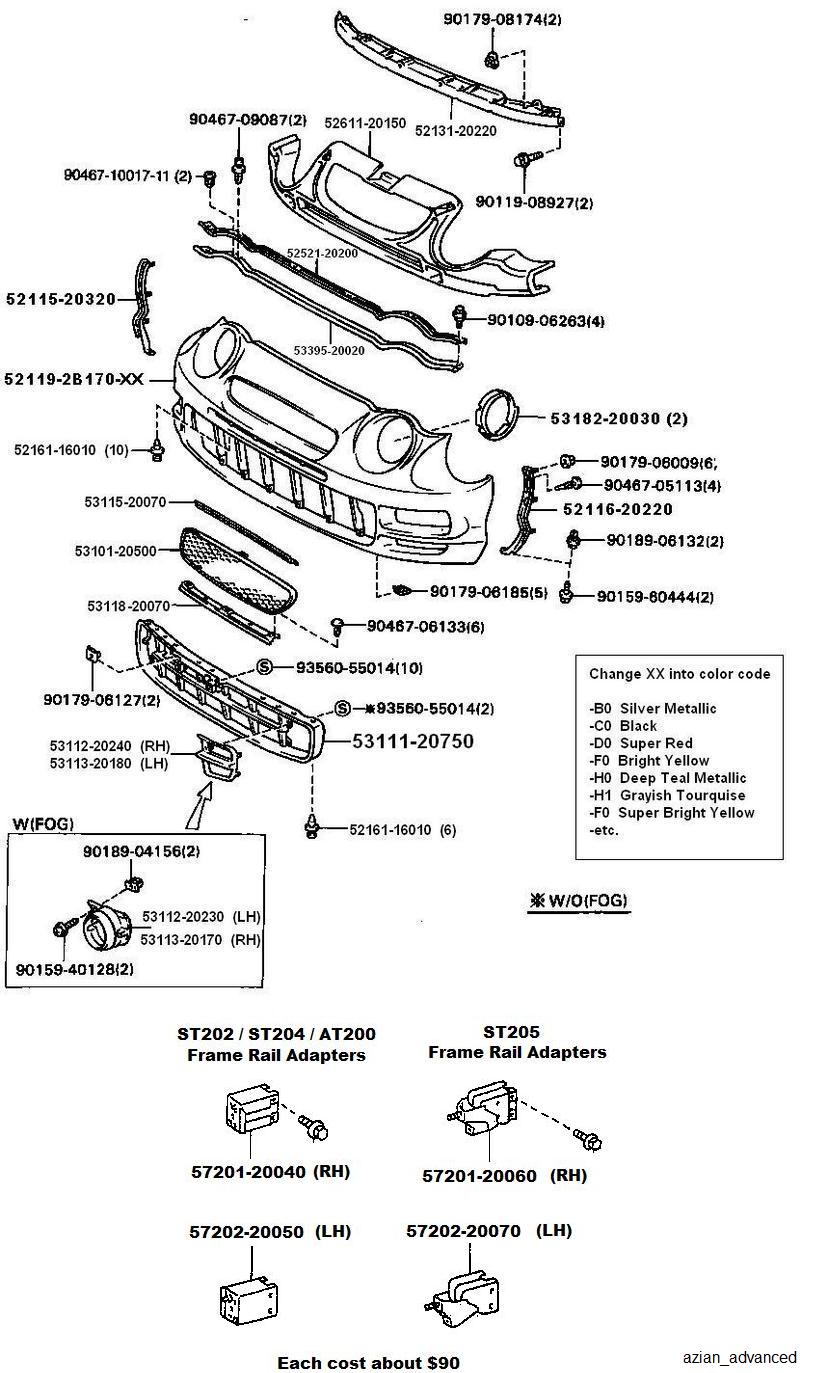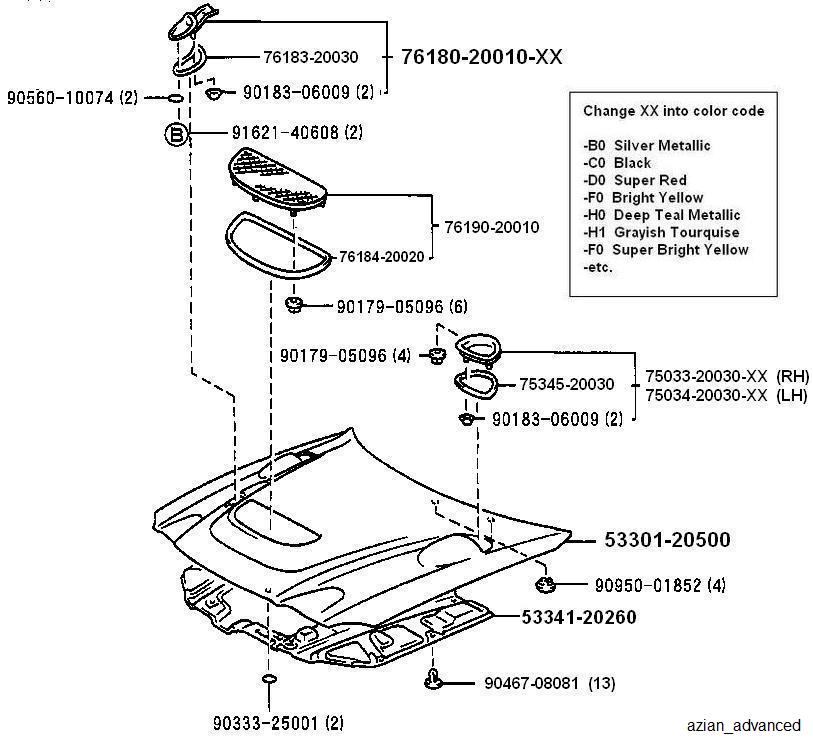 To order any of these parts, you must call us directly at 1-800-825-7128 Press 5 for parts, and ask to speak to Aaron or Sam. You must mention that you are a 6gc customer and be sure to have the part number on hand when you call to recieve the special 6gc.net pricing.

Last but not least, feel free to visit our main site.
Partznet.com!



**All prices in this list updated 2/22/13**