Member name:
Jay
Market:
USDM
Year:
95
Model:
GT
Frame & Type:
ST204 convertible
Engine: factory --> swapped.
5S-FE --> Gen III 3sgte
transmission:
stock
Update: Just installed an Innovate Motorsports dual gauge, pressure/temp gauge with two 3-way switches, one for selecting between coolant and oil pressure and one for selecting between coolant and oil temp. (Jan 2015)
Video of the car running here!
and a
time lapse video of the GTFour front end install here
(recent pic Jan 2016)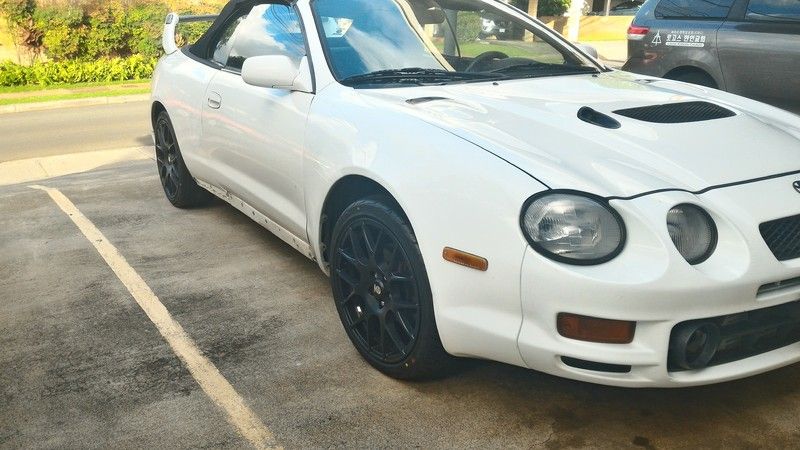 installed 7th gen steering wheel from a shiftronic model Celica!! Found in junkyard for cheap. Using the buttons for I/C sprayers.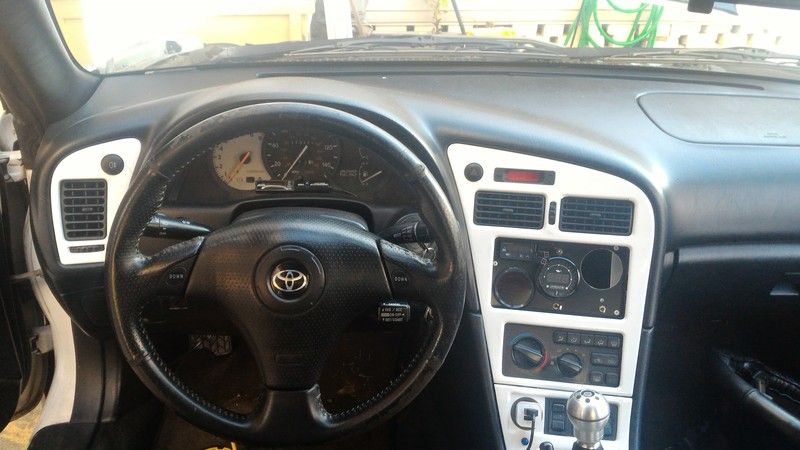 I figure it's about time for me to start my old thread again. I bought a 3sgte that had been parted out, got it for a good deal, but I needed a lot of hard to find parts. I would start a thread when I was on a roll then I hit a stopping point because of a lack of certain key parts. Spent a long time trying to find everything, and now I have all of the engine parts and I'm not too far from completion.
Significant other mods:
Engine block basics:
45k miles
.20 overbore, JN pistons, eagle rods (compression raised to 9.0:1)
stock head gasket
knife-edged crankshaft (with custom crank scraper to block oil from being kicked up inside the engine and keep it in the pan)
ARP main studs (with the little section shaved out of the oil pan for them to fit)
Engine head:
non-turbo 3sge head WITH turbo cams/springs and 3sgTe powder coated valve cover
HKS cam adjustable cam gears (currently set at 0)
ARP head studs
Accessories:
4th gen alternator, direct bolt in (and higher output)
4th gen compressor, direct bolt in
stock power steering pump (new though)
Electrical:
Autronic SM4 EMS
4 wire o2 sensor upgrade (currently not in use)
Haltech Dual Channel Wideband controller (one sensor), output to ecu.
Innovate Motorsports dual series pressure/temperature gauge
Two 3-way switches to select between oil/coolant pressure and oil/coolant temp in dual gauge
3-way switch triggering secondary relays to turn the fans on. (switch off = relay off, system works as if stock...switch on pos1 = relays triggered on and fans are always on...switch on pos2 = relay is triggered on when the EMS is set to trigger it on.
Turbo:
stock CT20b
FMIC air/air for Nissan S14/S15
(removed/replaced)
Mishimoto FMIC mounted to crashbar
HKS SSQV BOV
MAP sensor is built in to the Autronic
K&N filter (with blue rim) conical 4 inch inlet
stock VSV controlled by Autronic
Trans:
stock st204 5sfe trans
Aisin clutch with TRD pads riveted in place
Fizanda flywheel
Fuel:
stock genIII injectors, upgraded fuel pump (walbro, gss342 for mazda mx3)
Coolant sys:
Mishimoto radiator
Silicone hoses (blue

)
3-way switch controlling two 5-pin relays breaking the connection for the stock fans (on/off/on = relay-on.always-ground/relay-off.factory-controlled-fans/relay-on.SM4-controlled)
Ignition system:
Audi 1.8t individual coils
distributor is stock and the pickup inside is only used to give the Autronic the engine time. (set at 0 degrees instead of normal advance, timing is advanced in the ECU)
NGK iridium IK24 spark plugs
(killed by strong Audi ign coils)
BKR6E plugs (have to change every 10k miles)
Exhaust:
aftermarket downpipe (3inch)
3 inch mandrel bent piping into 3 inch magnaflow catalytic into 2.5 inch reducer (interchangeable resonator if I unbolt the cat)
2.5 inch piping into Borla universal turbo muffler
Other:
cheap ebay breather filter for crank vent.
custom air filter heat shield
custom battery tray mounted above trans mount
custom fuse box for SM4 and extra components
modified washer fluid reservoir to mount around FMIC piping
Wiring was a little bit of a mess at this stage because I was in the middle of building the new harness...