Photoshop Tutorials - Basic Info
Basic Tools
Depending on the program/version you are running, you should have a pretty similar toolbar on the left of your screen, or will see these symbols throught the program.

1. This is your 'Moving tool' It lets your drag the current 'layer' around your screen.
2. Selection tool. When making rough square/circle cuts.
3. Lasoo tool. This will be used for more precise cutting, around the cars body, wheels etc.
4. Magic wand. Cleverly selects certain connecting areas in the object. Usually works best when its more of a solid color.
5. Crop tool.
6. Eyedropper, to select colors.
7. Healing brush, removes blemishes by usuing surrounding colours to blend it together.
8. Paintbrush tool.
9. Clone stamp. Creates a replication of a certain area, to paste in another.
10. History brush, removes any painting your've done to the image.
11. Eraser.
12. Gradient tool.
13. Blur/Sharpen/Smudge
14. Dodge/Burn/Sponge
15. Pen tool.
16. Text
17. Path selection
18. Line/rectangle tool.
Explaining some of these tools in more depth
*Right clicking on most of these icons, will show submenus for you to click*
Lasoo Tool
If your icon looks a little different, eg with a Round bubble etc, here you can right click and choose an appropriate setting.
Here i use the Polygonal Tool. When using this, instead of drawing around your image in one single step, you make points around your objects, for a more precise
selection.
*Remeber to link back up to where you started*
Magic Wand
When using the magic wand tool, it is going to look for surrounding edges based on color/shape to form your selection.
Upon selecting any tool on the left, your toolbar on the top will change.
Up here we see the 'Tolerance' tab. Here, you select how much detail, you wish the wand to look for. With the tolerance set at <10 you will have a selection like so: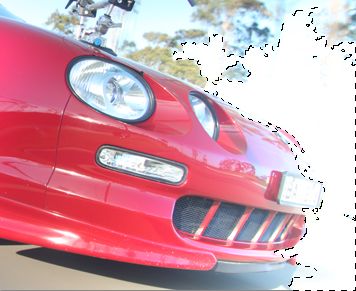 The smaller number will select less, more detailed areas.
With a tolerance selection of a greater number, eg >80 will result in: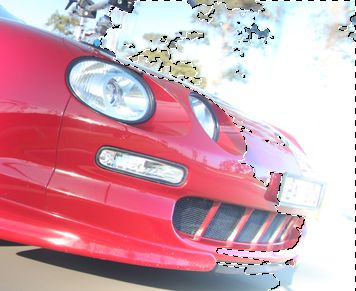 Notice that it selects some of the car. Certain times will call for the magic wand, but usually if you give the time, the Lasoo tool will serve better.
Now that you have done selecting, what next?
Once you have your selection, for whatever reasons, you can choose to either Delete or Copy/Cut it to a new layer.
Simply Right Clicking on your selection will bring up this menu.
Layer via Copy - will duplicate your selection into another layer. This is the safest way to try editing and still have your original image.
Layer via Cut - cuts the selection out of the image, in some cases we will require this.
If you no longer need it, you can simply hit the Delete key on your keyboard.
Clone
Pretty self explanitory. With the clone tool selected, you will hold down your 'ALT'or'Option' key, and click the area you wish to duplicate.
On the top toolbar, you will see Brush, Mode, Opacity.
Select the required brush you desire, and change the opacity to your needs.
[u]*Remember 100% Opacity will be a full duplicate, 0% will be blank, try stick around 80%*[u]
Healing
The healing brush blends surrounding colors together. This is most helpful when you have been 'Cloning'
If you are trying to remove certain features, grills, camera rigs etc, the clone tool will remove the majority of it, but it wont be blended in together very well.
Using the same method as the clone tool, holding down 'ALT' in a similar clear area, than painting over your cloned area, should blend it all together.
Dodge
Dodge tool allows you to lighten certain parts of the image.
When it is selected, your upper toolbar will provide you with three ranges: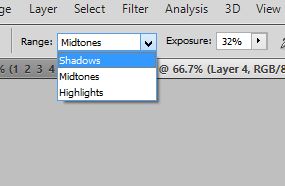 Again choose the appropriate Exposure (how much/hard you want it to be) and go to town with it.
When dodging, you really want to lighten up the highlights in your darker areas, Tyre sidewalls, Projectors etc
Burn
Right clicking on your Dodge tool, will bring up this menu:
Same settings apply for the Burn tool as the Dodge tool, but this time you will be making your things darker.
Better Examples will be shown below on how to use these!
Hopefully by the end of this you can have a basic knowledge to be able to muck around with your car, trying new things, or achieving edits like this: