This is a GUIDE not a HOW TO and is a thread in progress. Its going to take me a bit to properly organize this load info into a visually pleasing manor.

If anyone has any input from their own experience post or PM me and I will add the info in! There is alot of info in here and I am sure it will get very convoluted
**

Be aware that the ST205 Brake upgrade will require at least a 16" wheels and possibly spacers to adjust the offset and avoid contact between the face of the caliper and the backside of the rim face.

**
Torque Specs
Caliper halve bolts (four bolts that hold the caliper halves together)
14-17 ft/lbs
*Have an even torque value on each bolt
(add a dab of red loctite to the bolts thread ends)
Caliper Seal Part Numbers:
Stephen at GT-FourPlay UK sells a rebuild kit. You can still get the kit lsited below from rock auto but Stephens kit is alot more straight forward and youd be supporting Local (UK) business!
https://www.gt4-play.co.uk/shop/brake-calip...ce-kit?___SID=U
Caliper Re-seal Kits (Centric Brand From Rock Auto)
Front Seals
X4 #14344031 (kits are used for the small crossover seals for all 4 calipers/the piston seals in this kit are too large so the rest is unused)
Rear Seals
X2 #14342021 (Each Single kit services 2 calipers. These piston seals are used for the front too)
(I need to re-confirm that the rear piston seals fit the front pistons)
This will cover the crossover seals/piston seals/piston boots/piston retaining rings
Caliper Hardware Part Numbers
(Need to add the Pad Pin retaining wire #'s & toyota diagram)
Front pin clips:
#04947-14010
Front pad pins:
#90240-06019
Front shims:
#04945-14110 (EBC pads come with stick on shims)
Rear pin clips:
#04948-14010
Rear pad pins:
#90240-06017
Rear shims:
#04946-14030 (EBC pads come with stick on shims)
Front Hub/Caliper Preparation:
(These part#'s correspond to the McMaster-Carr Catalog. I highly recommend ordering hardware from them: www.mcmaster.com as they have VERY fast shipping and exceptional products)
Caliper Prep:
For the rotor to sit center in the caliper, the mounting tabs on the caliper will need to be shaved a slight bit.
Use a DREMEL and shave 7-8mm off of the mounting tabs. START OFF SMALL and shave say 5mm and check clearances, it is quite possible that with whatever spec rotor you use or just slight differences in hub thicknesses may not require a 7-8mm shave

(keep in mind that if you plan on powdercoating the calipers, that will add 1mm or so on top of the mounting tabs, unless you leave them uncoated.)

Use a Micrometer to make sure that the mounting tab is an even #mm across the entire area you shaved.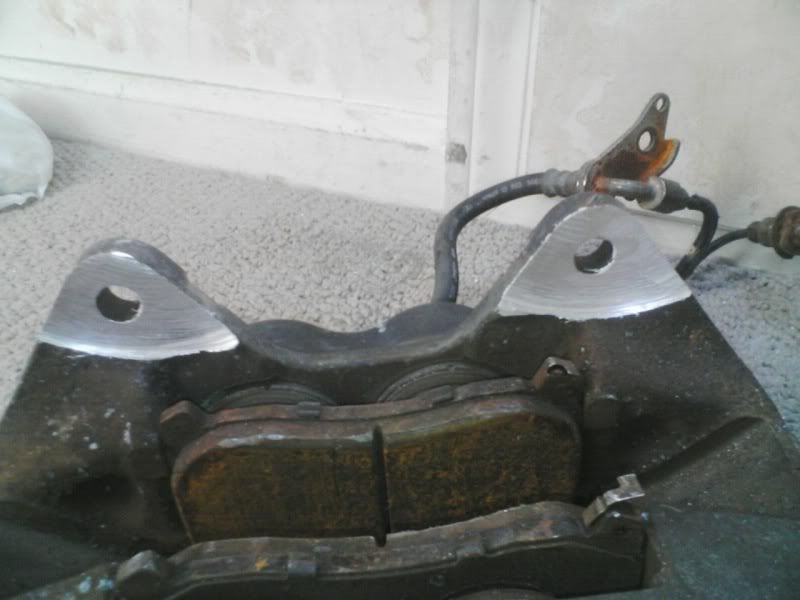 Hub Prep:
_____________________________________________

The stock hubs are thread-less and will need to be threaded. Below are the specs I prepped my hubs to but also a small description of what Culpable did with his hub. The way I did it requires a bit more drilling, and it is possible to just re-tap the thread-less hub holes rather than drill them out and re-tap. If you drill the hubs you will possibly need to drill out the caliper holes to match. The tap information is listed below.


CULPABLES THREAD (link at bottom of this post):
take the knuckle off the car and thread tap them thread taps are available anywhere, buy matching bolts for the thread you are tapping ( grade 8 bolts please ) use a 1/2 x 20 tap or finer thread. ( the one used on the pictures is 9/16 x 20 but no need to go that big as that will require to drill the hole to make it a little bigger)
______________________________________________
Carbon Steel Hand Tap
, 9/16"-18, 4 Flute
(I will add the kind of tap wrench that is best for tapping the hubs)
#26035A216
Drill for Tap
33/64
http://www.mcmaster.com/#catalog/119/2432/=oglxb8
8947A217 - 118 Degree Point High-Speed-Steel Short-Length Drill Bit, Black Oxide, 33/64", 3-7/8" Length Overall - $18.92
(CALIPER HOLES WILL ALSO NEED TO BE RE-DRILLED IF USING THIS SIZE, MAKE SURE TO DRILL TO MATCH THE DIAMETER OF THE BOLT YOU ARE USING TO MOUNT THE CALIPERS, THIS DRILL BIT WILL BE TOO SMALL)

Grade 8 Alloy Steel Hex Head Cap Screw
, Zinc Yellow Pltd,9/16"-18 Thrd, 1-1/4"l,fully Thrd
#92620A779
(Large washers are used in between the Front Caliper bolts and Hub and one washer has to be trimmed per axle, I will add their sizes later)
The Brake dust shield will fit and no modification is needed other than pushing it back a bit to avoid contact with the rotor (WITH 300mm Rotor).
Rear Hub Preparation:
I was fortunate enough to get the oem caliper bolts with the calipers in the kit from Culpable. I will get their specs since those are the bolts you will need to mount the caliper, the oem ST204 bolts are too short.
The rear dust shield will need a good amount of trimming (use a small dremel) for the caliper to fit. Its hard to really explain where it will need to be cut exactly, but just hold up the ST205 caliper to its mounting mount and you will be able to judge where it will make contact with the dust shield. Both around the top and bottom mount holes on the hubs will need to be trimmed. (If you plan on powdercoating your calipers make sure to do this before, I scratched my newly powder coated calipers holding them up trying to judge how much more I needed to trim)
When mounting the Rear Calipers, there needs to be a 6mm spacer washer between the caliper holes and mounting bracket.
This will correct and center the caliper to match the lower rotor height of the ST205 disk (The ST205 disk is 6mm smaller than the GT disk). As a temporary solution I used 2 washers (2.5mm thick) per hole that when stacked added up to about 6mm. Washers usually have a thickness tolerance of +/- .3mm so I had to sort through a whole bunch to finally find a combination that added up to the right spec. Anywhere between 5-6mm will work fine but the closer to 6mm the better
The better solution, as discussed with ricochet1490, would be to get a custom made 6mm thick washer.
McMaster sells extra thick high strength steel washers, I am ordering a few to test them out, supposedly the thicknesses of the washers arent consistent but we will see
Rotors:
OEM Celica Dimension Specs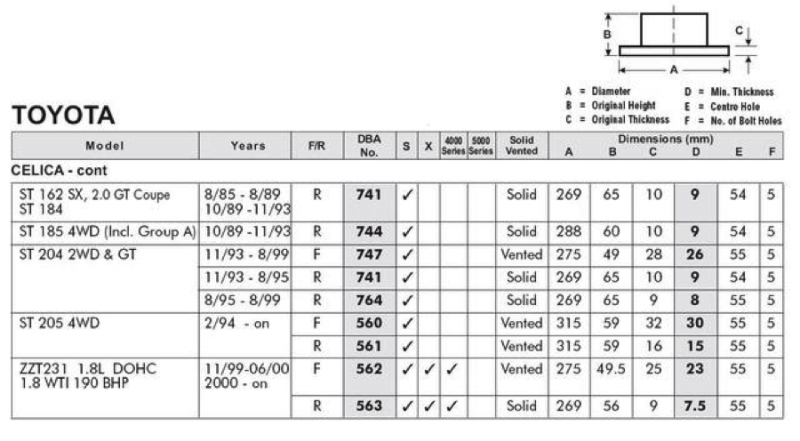 Front:
Be aware of the hub diameters. The OE Celia hub diameter is 54.1. Most of our options for the front will be larger than that.
I personally like to have hubcentric rotors but you can run them lug centric if you dont feel like making a shim, I would advise against that though.
Subaru BRZ/Impreza Rotor
Part Number: Centric 121.47021
PCB - 5x100
Hub Dia - 58
Dia - 292mm
Centric Brand Part Number: 121.47021
(additional info on aftermarket solutions will be added soon thanks playr158 for the find!)
93-99 Toyota Supra NON-Turbo
PCB - 5x114.3 (Must Be Re-Drilled)
Hub Dia-60.1
Dia-296mm / 11.811"
****Most OEM and OEM replacement Supra Non-Turbo rotors have service holes on the face of the hat preventing them from being re-drilled to 5x100, Most aftermarket 2-Piece Rotors do not have these service holes allowing the hats to be re-drilled. Always check before purchasing. THIS MAY NO LONGER BE A VIABLE OPTION****
5x114.3 Conversion Front Rotors
93-99 Toyota Supra NON-Turbo
Supra Hub Dia-60.1
Dia-296mm / 11.811"
Rear:
ST205 Rear Rotors
Hub Dia-54.1
Dia-315mm

I highly recommend EBC Brand through this site
http://www.ebcbrakesdirect.com/
(Fast Int'l Shipping with Tracking code!)
Here you have the option of OEM/SlottedDimpled/Slotted
ENDLESS also makes a Slotted and Blank Rear Disk
Blank Rotor (Single) $176
Slotted Rotor (Single) $225
ENDLESS Rotor PDF
5x114.3 Conversion Rear Rotor
***TBD****
Brake Pads:
Supra MK4 Turbo Pads
I recommend EBC brand pads as they come with black 3M rubberized stick on shims. Do Not use both the stick on rubber shim and the metal Toyota/Other brand shim.
Part#
Front
DP31004C
Rear
DP31005C
Some other brands that have both streetable performance and race performance pads that will fit are
-HAWK Pads
-Carbotech Pads
-Endless Pads
I have only ever used EBC pads so I have never needed Shims from Toyota. I am not sure if other brand pads come with some sort of shim. If they don't you will need to order a set of shims
3M Stick on Shims
Brake Lines:

ST205 Lines
ST204 (GT) Lines
Custom Lines (recommended)
Bleeder Fittings

Speed Bleeder #SB1010
Buy them. They work wonders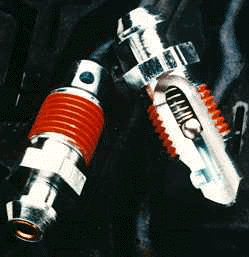 Caliper High Temp CELICA Stickers
http://www.ebay.com/usr/uber9
Since the sale is re-listed weekly I cannot provide a direct link. Sreach for "celica" and the results will show up. Be sure to message the seller to specify it is for the ST205 Calipers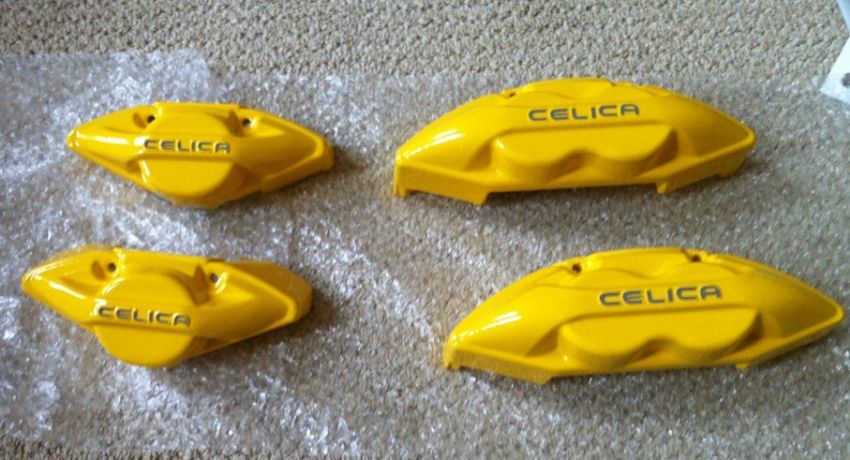 Brake Bias Controller
One thing that will be immediately apparent with this swap is a different brake bias than what the GT/ST provided.
The bias wont be the same for every car this swap is done for. There are alot of factors that will effect the ration ever so slightly. Worst case scenario your rear bias will be too much to the point of locking up way before the fronts get a chance too. For DD emergency situations, this may be undesirable.
Combat this will installing a Brake BIAS Controller.
I recommend Tilton as the brand to buy but there are other more budget friendly brands.
Brake Proportioning Info
http://stoptech.com/technical-support/tech...rtioning-valves
Additional Links/Reference Links:
ST205 Brake Upgrade Completed (Culpable04)
ST205 Brakes on a ST (Culpable04)
ST205 Brake Upgrade Completed (Batman722)
Toyota Supra Specifications
End Goal?