Time for a build thread, and it begins with a car that was previously in the group
http://www.6gc.net/celicas/1994-gt-hatchback-4796
"CilverSeliST205" I'll start with what was previously listed and go from there.
This is what it looked like in it's heyday...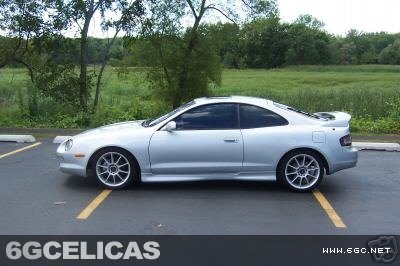 Peformance
Gen 3 3S-GTE
E153 Transmission
Precision FMIC
Greddy Type S BOV
3" XS Power Downpipe
TRD oil & radiator caps (performance)
Suspension
Suspension Techniques Lowering Springs
Exterior
Face lift bumper cover swap
Side Skirts installed, missing driver's side at the moment
JDM Tails
Interior
Alpine CDA-7995 Head Unit *getting replaced with a double din
MB Quart Component Set *getting replaced with Polk front and rear
Alpine MRV-450 Amp
Kicker 12" Solobaric in Custom Box Built in trunk area
Autometer Boost Gauge
Autometer A/F Gauge
Momo Shiftknob *getting replace as it's a dorky one that I hate
And here is what it looked like when I offloaded it at my house...
Just chilling with my 99
From there it was time to start making a plan,. step 1 get it streetable again. When I picked it up there were no spark plugs in it, so when I turned it over I caught the hood liner on fire.
New Parts:
NGK BKR7E Plugs
Oil Filter
New Belts
Optima Red Top Battery
Turned the key, and it started right up. It runs like it's been sitting for a while, and the gas is going bad, but it runs. Next, it was time to start working on the looks of this thing. I scoured the internet and found these... (actually I found them before buying highOSilver thinking I would put them on my black 99)
Toyota Caldina wheels, or Toyota Matrix M-Theory Wheels (17x7)
More New Parts:
Riken Raptor ZR 215/45R17 Wheels
+15mm Wheel Spacers
R1 Concepts Eline Series Black Drilled Slotted Rotors & Ceramic Pads
So, now it runs, has better looking wheels, and should stop better, so I picked up some color to refurbish the brake calipers and mounts as well as some parts here and there under the hood.
Well at this point, I had decided that the spending was just going to continue, so I started emailing around for sponsors, as I plan to autocross this car in addition to shows.
Welcome to Team Mishimoto, and a great discount on a performance aluminum radiator.
I'm also now being sponsored by Borla and ordered a Borla ProXS #40359 3" Stainless Steel muffler to go with the new 3" exhaust I'm going to install.
This weekend, I will be upgrading the brakes, painting the calipers and mounting brackets, installing my wheel spacers and wheels. I'm also heading out to my brothers shop to pickup a bunch of parts I have stored, so it's getting a newer face-lift bumper cover, probably a new side skirt for the driver's side, still debating on a black leather interior swap and grabbing a bunch of other odds and ends from other cars I've parted out over the years.
I'm planning to take before and after pics for the work I'm doing on this and will be updating it here! Stay tuned for more.