Interview with Supersprynt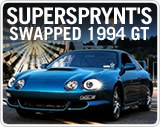 Supersprynt's car has undergone a complete transformation over the years. Fresh paint graces the custom bodywork, while a swapped and modded 3S-GTE, Tein suspension, and several other components complete the car.
6G Celicas: What's your name, how old are you and what do you do for a living?
I'm Erik, I'm 25, and I work for an educational publisher.
6GC: When, why and how did you first acquire your Celica?
Erik: When I was 18 years old, in 2001; I was told about the car being for sale by a friend. It immediately caught my attention but the price wasn't right. A few months later the guy had dropped the price and I jumped on it immediately. Being in college, 4 hours from the car, I told my father, being a car aficionado, to go look at the car and give me a call. Besides the "it's loud! I got over the phone, he said it was in good shape, and I gave him the OK to purchase it. I bought it without even seeing it in person.
6GC: What were your original plans for the car? Have they changed since?
Erik: The car came with an Invader kit and some bolt-ons, including exhaust. At first this was ok, but the power bug began to nibble. I was initially going to turbo the original 5SFE, but decided to re-invent the entire car from scratch, and swap in a 2nd Gen 3SGTE.
6GC: What are your future plans for the car?
Erik: The car has a lot work into it already, so future plans are limited. If I do continue to modify it, it will be a larger turbo and some other motor parts.
6GC: How and when did you find out about 6gc.net?
Erik: Jared, or Phat_99CeliGT as some of the more senior members may remember, introduced me to the site when he commented on my car on another website. I stopped by, saw 0re0's projectors and the rest is history.
6GC: Any last comments you'd like to make?
Erik: This website, and its members; are mostly responsible for the direction in which not only my car, but many other members cars have been taken. It's a testament to the hard work of Coomer and the moderators that I have people who I can call friends because of this website. Other than that I'd just like to say thank you to everyone who's lent a hand in helping with the car over the years.
View full Celica details & photos or View all featured rides