Welcome to the Sixth Generation Toyota Celica Resource!
From '94-'99, Toyota produced the sixth generation Celica. 6G Celicas is the place for sixth gen. Celica owners worldwide to unite and share info, photos, and more about this outstanding car. Enjoy!
6GC Needs Your Help
Over the years, I've spent enough money on server costs to be able to buy a nice V6-swapped Celica (and that is tempting.) If 6GC is at all helpful to you, feel free to help out.
If you shop on eBay or Amazon using the links below, 6GC will get a small cut of any purchases made to help pay for server costs. Thanks friends!
-Christian Coomer
6GC Admin/Developer
PS Don't forget to vote for the car of the month for June!
Featured Celica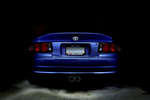 Mike Thoma's 1995 Celica has transformed from a stock GT into an autocross machine with it's own unique style.
Previously Featured