Welcome to the Sixth Generation Toyota Celica Resource!
From '94-'99, Toyota produced the sixth generation Celica. 6G Celicas is the place for sixth gen. Celica owners worldwide to unite and share info, photos, and more about this outstanding car. Enjoy!
Featured Celica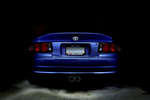 Mike Thoma's 1995 Celica has transformed from a stock GT into an autocross machine with it's own unique style.
Previously Featured
What's New
We've just rewritten large portions of the site. There will inevitably be a few bugs and problems here and there, but for the most part it should be good to go! Please let us know if you have problems, questions, or suggestions. We'll be working hard over the next few weeks to make 6GC even better!
Regards,
Christian Coomer
6GC Admin/Developer