Welcome to the Sixth Generation Toyota Celica Resource!
From '94-'99, Toyota produced the sixth generation Celica. 6G Celicas is the place for sixth gen. Celica owners worldwide to unite and share info, photos, and more about this outstanding car. Enjoy!
Thanks Friends!
I no longer own a Celica, just a lumber-hauling Corolla, but am still an enthusiast in many ways, spending half my life in the garage. I know information is valuable, as countless others' sites help me every day in building things, and I plan on keeping the site going as best I can. Thanks to everyone who's reading this, it's been over 20 years of 6GC now!

- Coomer
Featured Celica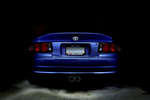 Mike Thoma's 1995 Celica has transformed from a stock GT into an autocross machine with it's own unique style.
Previously Featured