Interview with snapshotgt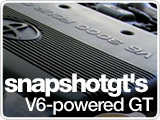 A family-owned car since new, Collin's '94 GT has seen a second life in the form of one of 6GC's first V6 swaps, though it's only part of what makes the car great.
6G Celicas: What's your name, how old are you and what do you do for a living?
My name is Collin, I am 20 years old and a full time college student -- my major is political philosophy and I am planning on attending law school.
6GC: When, why and how did you first acquire your Celica?
Collin: This car has been in the family since it was bought off the showroom floor back in 1994. Back in 2005 I got this baby with 210k on the clock and needing some TLC - let's just say it got it and then some.
6GC: What were your original plans for the car? Have they changed since?
Collin: The original plans were very small due to my budget - just simple things like fixing the tears on the seats, new shifter boot, carpet etc...yeah a lot changed! Its been interesting to reflect on how and where the plans deviated and how and where the plans grew to its current state.
6GC: What are your future plans for the car?
Collin: Currently, I am very pleased with where i've gotten this car. My goals were to build a rare, reliable, fast, stock looking NA (1mz-fe) 6gc... accomplished. Since the V6 swap, I've had to settle a few issues (axle spacer, exhaust leak, injectors, AC, suspension upgrades) but am proud to say oil changes and normal maintenance have been the majority of efforts since completion. Even though I've said I'm happy with where the car is, its not to say I haven't dreamed about more power (in the form of SC), but realistically right now I am very satisfied with it as a reliable daily driver.
6GC: How and when did you find out about 6gc.net?
Collin: I was looking for clear turn signals for the 94/95 bumper one day back in october 2005 -- google results pulled this place up and the rest is history. To break it down: google + clear turns + 6gc.net + ~4 years = 1mz-fe V6 swapped daily driver
6GC: Any last comments you'd like to make?
Collin: This is a great community, and I have been honored to be a part of it. I have lived the ultimate dream of a 6GC member -- coming here a total n00b asking dumb questions and learning my way around, getting flamed etc... now 3 years later I am 100x more knowledgeable and have had the awesome experience of participating in the site management. This community is very unique and if you're reading this be honored to know this place exists! I wish you all the best in your modifying endeavors and hope you continue to cherish the smooth lines and graceful stance of our Celica's. On a more personal note, I would like to thank Carl Crawford at Speed-Source for his invaluable assistance and rescue of this swap from the bleak circumstances (see swap thread for details) it originally faced. His expertise and helpfulness cannot be underestimated. This car has come a very long way, and I hope it can be a beacon of motivation for all those out there with big dreams.
View full Celica details & photos or View all featured rides