Interview with maikl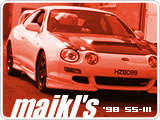 Maikl's SS-III is a perfect example of a clean Celica. Standing out even amongst the crowd of Celicas from Cyprus, this BEAMS 3S-GE-powered Celica will hold its own on the street or the track.
6G Celicas: What's your name, how old are you, and what do you do for a living?
Maikl: My name is maikl, i am 24 years old and i work as a machine operator in a big aluminium factory.
6GC: When, why and how did you first acquire your celica?
Maikl: The first time i saw my car was when my uncle who is a car dealer called me and told me that he has a suprise for me and he wanted me to go there.... he knew i was looking for a sport car and he knew i was going for a honda!!!! but the first time i saw my car i knew that it was the right one for me!
6GC: What were your original plans for the car? Have they changed since?
Maikl: My first plans for the car was to leave it completely stock!!!! as you can see they've changed ALOT!
6GC: What are your future plans for the car?
Maikl: My future plans are a stroker kit from hks cams and camshafts from jun and a power-fc from brash-boy!
6GC: How and when did you find out about 6GC.net?
Maikl: The first time i found out about 6gc net was by accident when i was searching yahoo for 6gc performance parts...i have to say that is so far is the best 6gc site i found!
6GC: Any last comments you'd like to make?
Maikl: I want to say thank's to all the friend's i made in the 6gc and thank's for all the info you gave me so far...
View full Celica details & photos or View all featured rides