Interview with malpaso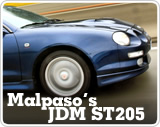 JDM ST205 after LHD conversion with unique "SS-Four" design and some other modifications. Modifications to improve performance, braking and handling but still keeping it more "grand touring" than "racing" car.
6G Celicas: What's your name, how old are you and what do you do for a living?
My name is Martin, I'm 33 and working for one international IT company as service leader
6GC: When, why and how did you first acquire your Celica?
malpaso: This is my second Celica. First one (96' ST) I bought in 2004 and in 2009 changed it for second one (96' GT-Four). 96' ST was my own first car and bought it because it was cheaper and more beautiful than other options I had (96' Nissan 200SX and 96' Mitsubishi Eclipse).
6GC: What were your original plans for the car? Have they changed since?
malpaso: Original plan was to create from my stock ST a pure SS-III replica (since I love design of SS-III model) and get like 200HP from it (thanks to turbo kit installation). That exactly happened in 2007 and I had the feeling it was done. I was so wrong . This tuning never ends... so after one year of driving ST-T I had to install GT-Four hood and idea of "SS-Four" design was born. Combination of GT-Four and SS-III. One year later I decided for a big change. True "turning point". To buy GT-Four. But why lose the design I like just because I have changed cars? That is why when I bought the GT-Four in 2009 I have simply changed the design of that GT-Four to look the same way as the old ST-T
6GC: What are your future plans for the car?
malpaso: After many years of evolution I'm happy with design at last so only future plans I have are: - Modify suspension (from Super Strut to McPherson) - Get slightly more power from engine (build forged one)
6GC: How and when did you find out about 6gc.net?
malpaso: In 2004 I was looking for someone who sells SS-III splitters and found him here . During years I have found 6gc.net is much more than just source of parts - place with a lot of great people that makes this site damn unique.
6GC: Any last comments you'd like to make?
malpaso: Thank you all!

View full Celica details & photos or View all featured rides