Interview with Coomer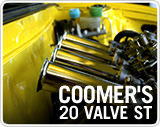 Coomer's Celica is a one of a kind creation, from the tractor paint gracing the bodywork to the swapped, tucked, and shaved engine bay. After nearly six years in the making, he's finally satisfied.
6G Celicas: What's your name, how old are you and what do you do for a living?
I'm Christian Coomer, I'm 22, and I'm a website developer.
6GC: When, why and how did you first acquire your Celica?
Coomer: When I was fifteen I fell in love with a lightly-modified sixth gen. around my area. I never dreamed of owning one just a few months later. In July of 2001, I got a job as a website developer. A month later, I bought my stock teal '94 ST coupe from a girl around my area for $7,800.
6GC: What were your original plans for the car? Have they changed since?
Coomer: My original plans were small and included modifications such as exhaust and wheels. Fast forward to today and you can see that my plans have gone a bit overboard. My car has a swapped 4A-GE engine, has been painted twice, has lots of suspension/brake work, custom electrical and fabrication work, and much more.
6GC: What are your future plans for the car?
Coomer: I've been considering a blacktop 4A-GE, possibly with a six-speed transmission, but I'm not sure if I want to go through with that. I'd also like to install a replica C-One front bumper and upgrade to some 15" or 16" very lightweight wheels once I find a job where I'm making good money.
6GC: How and when did you find out about 6gc.net?
Coomer: Well, I built and own 6G Celicas. So I'll give you guys a bit of a history lesson. Back in the day, there was Celica.net, which was great, but didn't cater specifically to the sixth gen. I had an idea to create a sixth gen. specific site with members' rides, parts, and how-to articles, and acted on the idea. The first site was horribly designed and coded and ended up going down, but came back a few months later. That was in August of 2002. Today, almost five years later, 6G Celicas is nearly 6,500 members strong and still growing.
6GC: Any last comments you'd like to make?
Coomer: My car has been through a lot. A nightmare of an engine swap, being totalled in an act of vandalism, and being broken into/vandalized two other times. If it weren't for everyone here always pushing me to fight through the hard times and press on, my car wouldn't be with me right now.
A huge thank you is owed to everyone who's ever helped out or been a part of the site. Jeff, Manny, and Romas are just a few invaluable people who have helped tremendously throughout the years. Thanks guys. Those of you who generously help out others, post on the forums, help plan meets, push the envelope when it comes to modifications, stick around after you've sold your car, build monsters that inspire everyone, offer/donate to the site, post feature suggestions, or anything else relating to the site, thank you. 6GC wouldn't be where it is today without all of you.
Building and developing 6G Celicas has been an amazing experience. I've met so many great people, made so many friends, felt so much love, and learned so much. And I wouldn't have it any other way. 6GC is great, and it's all due to the great people who are a part of the site. Thank you all.
View full Celica details & photos or View all featured rides